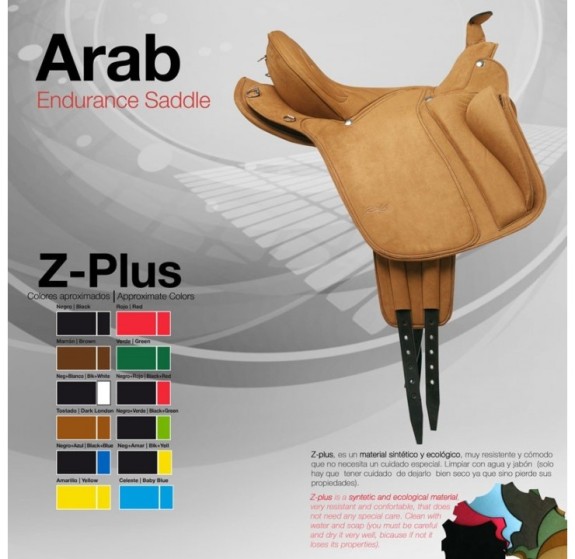 00807 Arab Endurance
00807 Arab Endurance
Price: $2830
In Stock: Call to order
Made of synthetic Z-PLUS material, light but very durable and easy to clean.
High comfort for long horse riding, both for the rider and for the horse.
Saddle with western-style horn. (also, it can be manufactured without horn).
The best option for riders who ride for many hours a day. Ideal saddle for rider by design it is very comfortable.
MATERIALS:
* Double latex rubber seat.
* Made of synthetic material Z-PLUS., very resistant and durable
* Knee pad / outer block.
* General purpose skirt.
* Panels: latex
* Tree made of special materials, with the most advanced technology.
* Stainless footrests.
* Long billets.
Currently in addition to the classic colors; Multiple combinations can be made in leather colors, threads, piping, and edge strips ... For example, the model in the image is Tostado with matching stitching in Z-plus material. Boxcalf leather is available at an upcharge..
The Z-plus material has a anti-slip texture, easy maintenance, soap is water is all that is needed. Dry thoroughly, enjoy the low maintenance.
MEASURES:
APPROXIMATE MEASUREMENTS OF THIS SADDLE IN SIZE 18"
-Measurement of the seat: 46cm, from the cantle to the Zaldi nail. -Space for the rider in the seat: 39cm
-Sizes for the horse: from 28cm to 34cm -Length of the panel in the underside: 60cm -Saddle support area: 55cm
-Length of the flap (down from the stirrups bar): 30cm
-Kneepad: 29cm high x 6cm wide x 4.5cm projection
-Weight: 9.200kgs