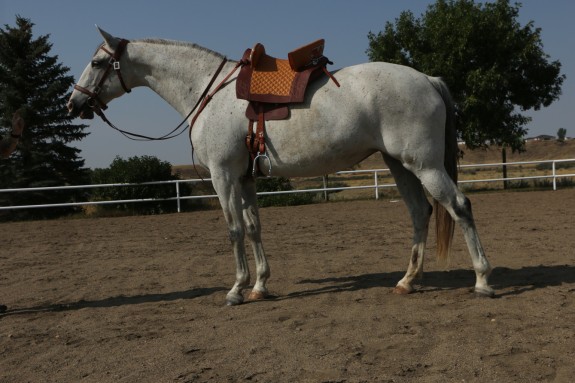 830 Portuguesa Special
169 Portuguesa Special
Price: $2900
In Stock: as shown in the photo S/n 5421
N+1 34Flexible tree, V-billets, large comfort panels(wool)
Special quilted flap insert
Back gallery shortened 3cm for wider opening
Matching accessories available
This is a custom version with the quilting replacing the chevron design and fancy stitched seat. The back gallery has been shortened 3cm to allow for a larger thigh room and more rider mobility then the tradional Bullfighting tight design. Ludomar Portuguesa is very much like the Mixta Portuguesa with the exception of the size of the front and back galleries. The galleries are of the Traditional shape, larger than on the Mixta Portuguesa adding additional security. The flap is more compact with s shorter length. Xerial straps added.
These are very popular in the Working Equitation world of Portugal and Spain.
This model's features are:
Tree: Flexible
Seat size: standard
Bridge/Gullet: N+1 34 using the Ludomar gauge
Billets: V billet
Panels: Synthetic wool Baroque Seen panels
Flap: 2 flaps
Leather options: Tobacco Croupon with Avellana boxcalf seat and flap insert
Pommel and cantle can have traditional tack pattern in silver
Upgrade: Quilted and fancy stitched seat, xerial straps,
**HOW TO MEASURE THE SEAT most Spanish/Portuguese/Baroque saddles are measured differently to the standard European method - .the is a straight line measured from inside the center/base of the pommel to inside the center/base of the cantle. A choice of three widths. Made in leather with quilted suede seat, exterior knee rolls, and latex filled panels. Metal stud work on front of pommel and rear of cantle.
Hand made in Spain by Ludomar, Warranty is 6 years with normal use. all Ludomar saddles come with a saddle cover.