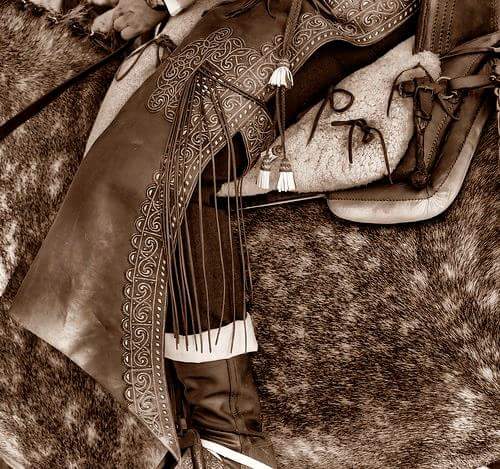 These terms and conditions are also valid for Dark Horse Saddlery's Facebook Page
PRIVACY, DISCLAIMER OF WEBSITE USE TERMS AND CONDITIONS
Access to this Website
Welcome to our website. In accessing and using this website, you acknowledge that you have read, understood and agree to be bound by the following terms and conditions.
About this Website
On this website we provide an interactive environment in which users who are interested in our services can find information or buy our products online
Your obligations
If you are not over the age of 18 years, you must obtain the consent of your parent or guardian before using this website. You must not:
a) use any other persons name when accessing or using this website, unless it is with our consent;
b) post or transmit any material which in any way defames, harasses or offends any person, is obscene or which in any way may interfere with any other users of this website;
c) provide any information to us which is the confidential information or proprietary information of any other person;
d) use this website in any way which may be in breach of any laws, rules or regulations or may infringe any third party rights; or
e) knowingly transmit any virus or take any action which may interfere with the operation of this website.
Third Party Content, Products and Services
Products and services offered for sale or advertised, and other information found on this website, may be the products, services and information of third parties. Third party products and services are not provided by us. If you purchase third party products and services, your legal relationship will be with the third party supplier and not us. You must check with any third party supplier as to the terms of provision of such products and services and the costs and charges involved. We may receive fees or commissions from third parties for such products and services. We make no representations about the accuracy or suitability of the information provided on this website. The information is provided 'as is' without express or implied warranty. You use the information at your own risk.
Links
This website may contain links to other websites which are not under our control or which are not maintained by us. The links to any such third party websites are provided for your convenience and information only. If you access these websites you do so at your own risk. We are not responsible for the content of those websites and will not be liable, directly or indirectly, for any damage or loss caused or alleged to be caused by or in connection with the use or your reliance on any such content. The fact that a website is linked to this website does not imply any endorsement or sponsorship by us of that website or that we are affiliated in any way with the third party operating that third party website.
Change of Information, Products and Services:
Information, products and services published on this website are subject to change without notice.
Information provided to us
You may at your discretion provide information to us in order to receive information about us, the products or services displayed on this website, to receive information relating to our products and services or to be involved in promotions or other activities undertaken by us. All information will not be used by others, or be reproduced, published, transmitted, displayed modified or distributed at our discretion, subject to our obligations under our Privacy Statement.
Copyright
All contents of this website, including the software, design, text and graphics are owned by or licensed to us and are protected by copyright under the laws of USA and other countries. Apart from fair dealing for the purpose of personal use, private study, research, criticism or review as permitted under copyright legislation, you may not reproduce, transmit, adapt, distribute, sell, modify or publish or otherwise use any of the material on this website without our prior written consent.
Trademarks
This web site includes trademarks which are registered, are the subject of pending applications or which are otherwise protected by law. You may not use these trademarks with out our consent.
DISCLAIMER AND LIMITATION OF LIABILITY
TO THE EXTENT PERMITTED BY LAW, WE EXCLUDE ALL WARRANTIES, CONDITIONS AND REPRESENTATIONS WHETHER EXPRESS, IMPLIED, STATUTORY OR OTHERWISE, RELATING IN ANY WAY TO THIS WEB SITE, YOUR USE OF THIS WEB SITE AND THE INFORMATION, PRODUCTS AND SERVICES SUPPLIED, OFFERED TO BE SUPPLIED OR ADVERTISED OR ACCESSED THROUGH THIS WEB SITE; AND LIABILITY (INCLUDING FOR NEGLIGENCE) TO YOU OR ANYONE ELSE IN RESPECT OF ANY LOSS OR DAMAGE (INCLUDING SPECIAL, INDIRECT OR CONSEQUENTIAL LOSS OR DAMAGE), COSTS AND EXPENSES SUFFERED BY YOU OR CLAIMS MADE AGAINST YOU ARISING FROM OR IN CONNECTION WITH ANY USE OF THE INFORMATION, PRODUCTS OR SERVICES SUPPLIED, OFFERED TO BE SUPPLIED OR ADVERTISED OR ACCESSED THROUGH THIS WEB SITE FOR ANY REASON WHATSOEVER (INCLUDING NEGLIGENCE). IN THE EVENT THAT TERMS, CONDITIONS OR WARRANTIES ARE IMPLIED BY LAW AND CANNOT BE EXCLUDED, THEN THOSE TERMS CONDITIONS OR WARRANTIES ARE INCLUDED HOWEVER OUR LIABILITY IS LIMITED AT OUR OPTION TO ONE OR MORE OF THE FOLLOWING. IN THE CASE OF THE SUPPLY OF GOODS:
A) THE REPLACEMENT OF THE GOODS OR THE SUPPLY OF EQUIVALENT GOODS;
B) THE PAYMENT OF THE COST OF REPLACEMENT OF THE GOODS OR THE SUPPLY OF EQUIVALENT GOODS; OR
C) THE REPAIR OF THE GOODS OR PAYMENT OF THE COST OF REPAIR OF GOODS; AND IN THE CASE OF THE SERVICES, SUPPLYING THE SERVICES AGAIN OR PAYING THE COST OF SUPPLYING THE SERVICES AGAIN.
Indemnity
You agree to indemnify us and our partners, agents, officers, employees and other authorised representatives against all claims, suits, demands, damages, liabilities, costs or expenses arising in any way out of or in any way connected to your use of this website.
Termination
If in our reasonable opinion you fail to comply with any of these terms and conditions of use of this website, we may terminate or limit your access to this website.
Governing Law
Any legal issues arising out of the use of this website will be governed by the laws of Alabama, USA and by using this website you submit to the jurisdiction of the courts of that state.
PRIVACY STATEMENT
We are committed to the protection of personal privacy and have adopted a policy to protect information about individuals. This policy describes the information we collect at this website, how we use that information, how that information may be disclosed, the security of that information, how you can access and correct any such information and other relevant details concerning your privacy.
Collection of Personal Information
You may provide personal information to us to receive information about products or services offered through this website, to purchase such products and services, to receive newsletters or become involved in promotions or other initiatives commenced by us. This personal information may include details such as your name, age, gender, contact information, products and services you are interested in or require more information about. If you purchase or request products and services from us we may also request your preferences for receiving further marketing or promotional material. The choice of how much information you provide to us is yours. We seek this information either to process your request for information and provide that information to you, to improve the quality of our products and services or to assist you to determine which products and services best meet your needs. We may also collect and store information about your visit to its website, including:- the name of the domain from which you accessed the internet- the date and time you accessed the website- the internet address of the website from which you linked directly to the website- the pages you accessed while visiting the website. This information does not in itself identify individuals and is used to measure the number of visitors to the website and how it was navigated. This information assists us to make the website more useful to you. We also collect information from subscribers (persons registering their details with us through the website) or website visitors for the purpose of improving our quality and effectiveness and to provide you with information. We welcome feedback from you about all aspects of its website. We store feedback that users send to us. This feedback is used to administer and refine our service. We may also use the information to improve or promote this site. We will not publish your name in connection with any information you provide without your permission.
How do we use the Personal Information?
The personal information obtained from this website is used, where you have so requested: to provide products and services to you; to provide you with information, newsletters or other communications; to involve you in promotions and other initiatives undertaken by us
Security of your information
We take reasonable steps to ensure the security of all information we collects from risks such as loss or unauthorised access, destruction, use, modification or disclosure of data. For example, your personal information is maintained in a secure environment which can be accessed only by authorised personnel. However, no data transmission over the internet or information stored on servers accessible through the internet can be guaranteed to be fully secure. These activities are undertaken at your risk.
Disclosure of Personal Information
Personal information collected through this website is not disclosed or passed on to third parties unless it is in accordance with this privacy statement. Information may be provided to third parties where any functions or services are being outsourced or you would reasonably expect us to disclose it to a third party for a particular purpose. We will not disclose your personal information in circumstances other than those described above without your prior consent. The only exception to this rule is where disclosure is necessary to prevent injury to life or health, to investigate any suspected unlawful activity or where it may be required by law such as in a response to a warrant, subpoena or other legal process.
Access and correction of personal information
You may request access to your personal information collected through this website at any time. Please send an email at the contact address shown on this website. If any information is incorrect please advise us and we will update it.
Links to other Websites
We are not responsible for the privacy practices or content of any other website that is linked to this website. It is your responsibility to investigate the privacy policies of those other sites.
Changes to this Privacy Statement
This privacy policy may change from time to time particularly as new rules, regulations and industry codes are introduced.
How to contact us
If you have any concerns or questions, please use contact details as found in this website.
Online Shop Terms and Conditions
All orders and purchases made through this website are subject to the Online Shopping Terms and Conditions outlined below. These Online Shopping Terms and Conditions may change from time to time without prior notice, at our discretion.
This website is owned and operated by DARK HORSE SADDLERY LTD. All orders and purchases made through the facilities of this website shall be subject to these Online Shopping Terms and Conditions. All transactions through the DARK HORSE SADDLERY Online Store will appear on your statement as DARK HORSE SADDLERY.
DARK HORSE SADDLERY may correct errors or inaccuracies and change or update information on this website at any time without notice, including in respect of prices and availability of items. All prices listed on this website are in Canadian dollars and all charges will be processed in Canadian dollars.
Dark Horse Saddlery will use commercially reasonable efforts to deliver items as quickly as possible and within any time periods indicated; however, Dark Horse Saddlery will not be responsible for any delays in delivery which are beyond its control. If goods are not available or there is a delay in delivery, Dark Horse Saddlery will notify its customers within 7 business days.
Once Payment has been received and processed, goods will be shipped. All orders will have a delivery tracking number to ensure safe delivery and are subject to the delivery company's timings and terms and conditions.
Reasonable efforts are taken to ensure the accuracy and integrity of information and related materials provided by Dark Horse Saddlery on this Web Site, but Dark Horse Saddlery is not responsible for misprints, out-of-date information, technical or pricing inaccuracies, typographical or other errors appearing on this Web Site. Information and related materials are subject to change without notice. This Web Site and all information and related materials it contains are provided "AS IS". Dark Horse Saddlery makes no representation or warranty whatsoever regarding the completeness, accuracy, currency, or adequacy of, or the suitability, functionality, availability, or operation of this Web Site or the information or materials it contains. By using this Web Site, you assume the risk that the information and materials on this Web Site may be incomplete, inaccurate, out of date, or may not meet your needs and requirements.
1.Payment Options
Currently Dark Horse Saddlery accepts Paypal payments, E-transfers or with a check mailed to us, however, check payments won't ship until your check has cleared. Saddle orders are stickly through E-transfer or Money wires only. All store prices are in Canadian dollars and prices charged to overseas-based customer are according to the exchange rate on the day of shipment or at the time of order. A Deposit of 50% is need on factory saddle orders.
2.Export Restrictions
At the moment, Dark Horse Saddlery only ships to Canada and the United States delivery addresses. If you live outside the these areas, please contact us at This email address is being protected from spambots. You need JavaScript enabled to view it. so we can arrange shipping to your country. All duties, tax and import fees are your own responsibility and will not be paid for by Dark Horse Saddlery .
3.Cancelled/Declined Orders
Your order can be changed or cancelled at any time before your order is shipped on in stock items. Contact us to arrange cancellation of your order. Special order items cannot be cancelled, as the products were made specifically to your instruction and most likely cannot be resold by us. All special orders require a 50% down-payment to cover our cost and this down-payment is non-refundable.
We reserve the right to cancel an order and/or to place a stop on online orders if:
(a) your order is not accepted at the nominated delivery address; or
(b) we believe (or reasonably suspect) that your order is fraudulent or you have otherwise breached these Web Site terms and conditions
(c) item went out of stock and can't be produced anymore or has faults. This can happen when items were also shown at events and shows, and have sold before the store's inventory was updated.
4.Tax Invoices Dark Horse Saddlery will email you a tax invoice when payment is processed, so you can reprint the email should you require a hard copy of the invoice.
5.Change of mind returns
Dark Horse Saddlery accepts change of mind returns within 14 days on all in-stock regular price merchandise, for an in store credit, no cash refunds with a 25% restocking fee. Your invoice is to accompany the item or will not be excepted. This is excluding all Special/Custom order items and items that have been reduced in price, such as demonstration saddles and clearance and used saddles. All reduced and custom orders of merchandise is a FINAL SALE. Exchanged items will not be charged the restocking fee, customer is responsible for return shipping.
If you cannot present your Dark Horse Saddlery online invoice or other acceptable proof of purchase, Dark Horse Saddlery reserves the right not to offer a repair, store credit or exchange.
Operating difficulties and Warranty
If you are experiencing operating difficulties with saddles or tack or other similar products we recommend you first contact us before returning the product. Many operating difficulties can be quickly solved with the right advice. Dark Horse Saddlery reserves the right to: Assess the condition and age of returned goods prior to offering a repair, exchange or store credit. This may result in a repair, exchange or refund being refused. All warranty work will be sent back to the manufacturer for service. Shipping is the responsibility of the customer. We will assist you with the process, providing the necessary border paper work to assure prompt delivery.
Please note:
Your original Dark Horse Saddlery online invoice is the best form of proof of purchase
Gift certificate / voucher or coupon is not redeemable for cash.
Thank you for taking the time to read our Privacy Statement
DARK HORSE SADDLERY INC