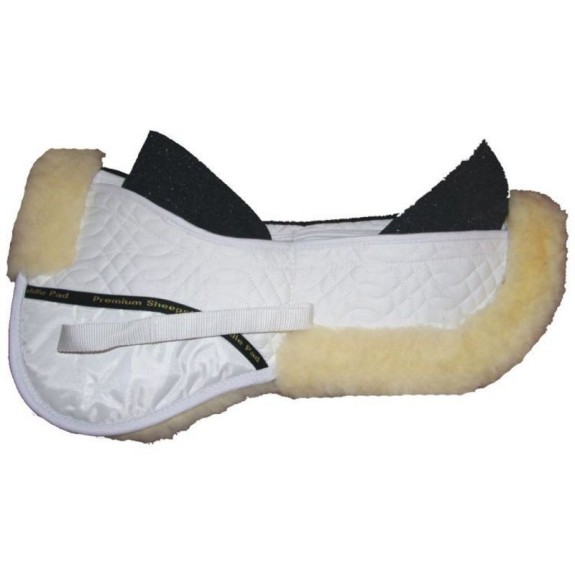 Haf pad with shims
61578 Sheepskin Half Pad Corrective pad
SRP: $75.00
In Stock: white/natural wool/medium
Premium Sheepskin Collection
Contour Wither Relief Correction Pad
This Correction Pad system is ideal for horses that are either out of shape/from or returning from an injury, where incremental correction may be needed as the horse's back and shoulders gain muscle tone. It is also good for one-sided horses or as a rear or front riser. This design incorporates four pockets along the spine - two front pockets and two rear pockets. Foam inserts fit into these pockets for a completely custom fit. You can shim the pad in one pocket, or in all four pockets, depending on the need of each particular horse. As the horse gains muscle you can eliminate the shims one by one to give him room to muscle up into the saddle. This half pad has a heavy-duty outer
cotton quilt and the contour fit gives great wither clearance. Our design gives the best support and allows for optimum energy dissipation. Custom sized to fit your saddle.
Available in: white or black
Sizes: Small fits 15" to 16" saddles Medium Fits 16" to 17" saddles Large fits 17" to 18" saddles
Large is a + $45