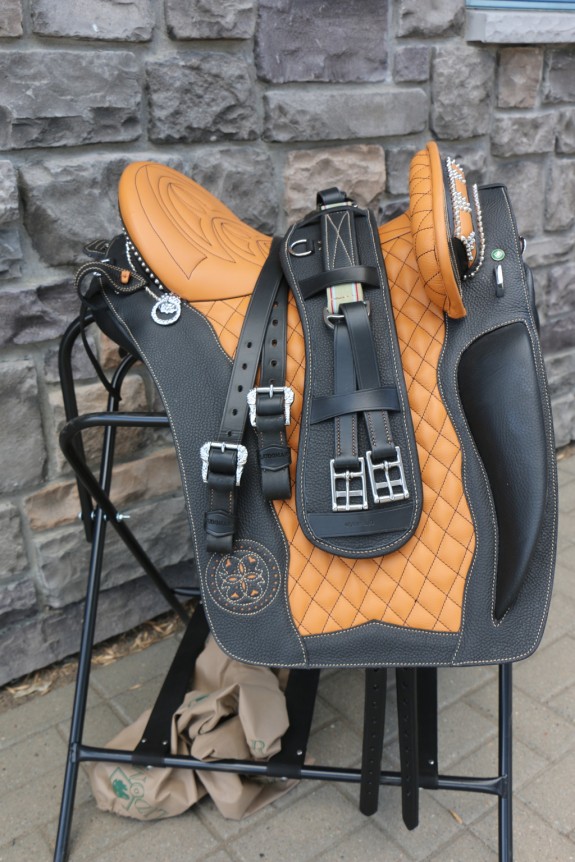 Elva Gaitan
855 Elva Gaitan
Base price:$3200
In Stock: as shown S/N 5225 Black with Avellana stitching and, piping.
tree N+1 34 seat standard seat
Description:
Elva Gaitan is one of the most beautiful Portuguese dressage saddles with its elegant design, deep seat, d medium/narrow with a Classic dressage position. The saddle with its large gallery and short but high external knee block maintains the rider's leg in an ideal long position. designed for quick turns, making it ideal for the sport of Working Equitation.
Super comfortable very deep seat for maximum support, not to mention the eye appeal with the assented quilting, decoratively stitched seat, and vaquero pyramidal tack design.
The Baroque Seen panels are not visible from under the traditional Portuguese square flap. adding comfort for the horse as they distribute the rider's weight over a larger area.
Saddle Details:
Seat size: standard
Bridge/Gullet: N+1, 34
Billets: V billet system
Panels: Synthetic wool
Flap: Baroque large Seen panels.
Leather options: Boxcalf
Upcharge: custom design, vaquero filigree medallion on corner of flap, xarial straps, flap 5cm longer,
Matching accessories available, Girth and stirrup leathers
**HOW TO MEASURE THE SEAT most Spanish/Portuguese/Baroque saddles are measured differently to the standard European method - .the is a straight line measured from inside the center/base of the pommel to inside the center/base of the cantle. A choice of three widths.
Hand made in Spain by Ludomar, Warranty is 6 years with normal use. all Ludomar saddles come with a saddle cover.