00370 Vaquero 2G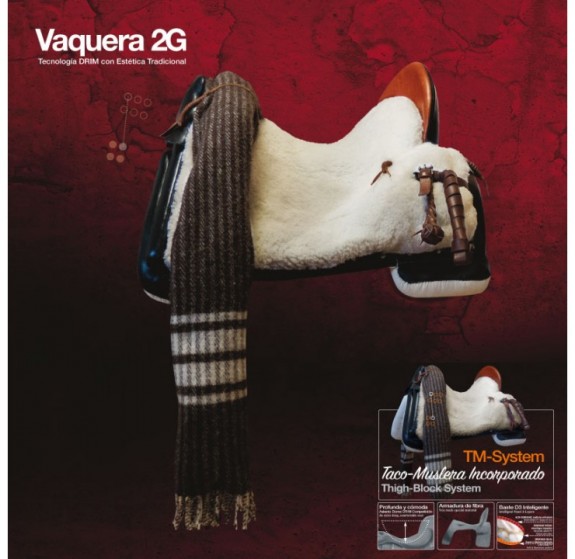 0037 VAQUERA 2G
SRP: $3450
In Stock: Call to order
VAQUERA 2G
A new concept in Vaquera saddles. The Vaquera 2G saddle is built on a carbon fibre and polycarbonate tree for lightness and flexibility. It features a deep dressage style seat position - using the same seat as in Zaldi's Drim saddle. Zaldi's popular TM (thigh block) system is incorporated. Stuffing is a mixture of wool and memory foam. Resulting in a saddle that has traditional shape but provides rider and horse with a comfortable, flexible freedom of movement. Ideal for trail riding, country riding although not correct for Doma Vaquera competitions.
There are options to choose between a traditional Vaquera girth fixing and a dressage style two girth strap fixing with an elasticated first girth and a V-shaped second girth to hold the saddle securely and evenly onto the horse's back. Also you can choose between traditional Vaquera fixed stirrup bars or stainless steel safety stirrup bars.
3 seat sizes - measured between pommel and cantle - 40cms for riders up to 1.6m and 65kgs, 45cms for riders of 1.75m height and up to 80kgs and 50cms for riders over 1.75m and over 80kgs.
Overall length depends on seat size but around 55cms. Weight 9kgs
THE UNION OF HIGH TECHONOLOGY AND AUTHENTIC SPANISH AESTHETIC. WITH INSIDE THIGH-BLOCK SYSTEM!!!
The best balance with an ideal seat.
Sizes to choose:
40cm: Riders up to 1.60m tall and 65kgs weight
45cm: Riders from 1.60m to 1.75m tall and 80kgs weight.
50cm: Riders taller than 1.75m and +80kgs
Colours to choose:
Black, Havana or Tabac (Dark London).
STANDARD FEATURES
1. An extra comfortable seat.
2. Tree made of special material.
3. Intelligent panel 3-layers.
First Layer: HIGH density for support tree.
Second Layer: MEDIUM density for shock absorbing.
Third Layer: LOW density for back horse maximum soft and contact.
4. Double Fit Tailstrap.
Traditional System or New System similar to stirrup endurance fit.
MANUFACTURING OPTIONS TO CHOOSE
1. Traditional Stirrup Bars
2. SAFETY Stirrup Bars -RECOMMENDED-
Choose: Usual stirrup leather or traditional stirrup leather with buckle for safety stirrup bars (Ref. 0100139)
3. Traditional Girth: Two ways to put it.
A. Between the tree and the seat
B. Between the seat and the sheepskin
4. Dressage Girth with long girth straps "V" system –RECOMMENDED-
THE UNION OF HIGH TECHNOLOGY AND AUTHENTIC SPANISH AESTHETIC. WITH INSIDE THIGH-BLOCK SYSTEM!!!
The best balance with an ideal seat.
How to choose your seat size:
40cm: Riders up to 1.60m tall and 65kgs weight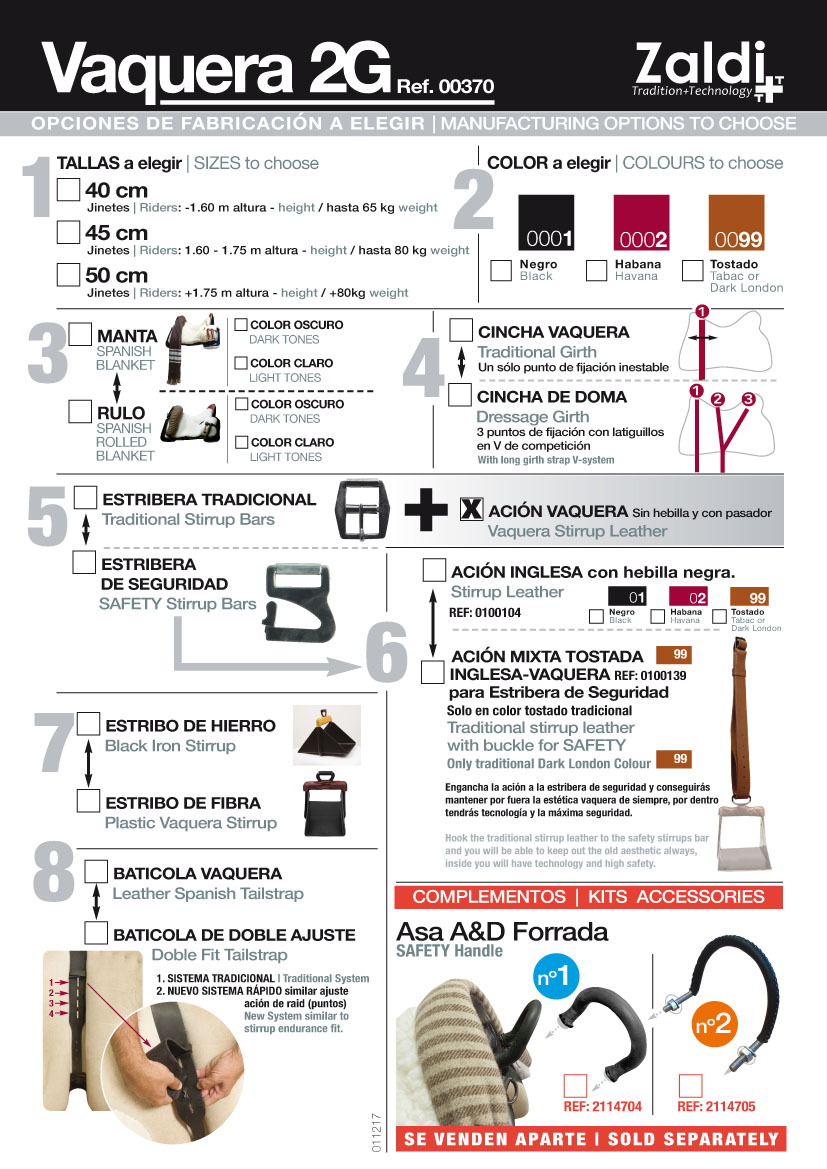 How To Order
Related Products
New design using the lastest technology while still keeping with tradition.

Comes complete