009140 2G Front Multi-position Long Billets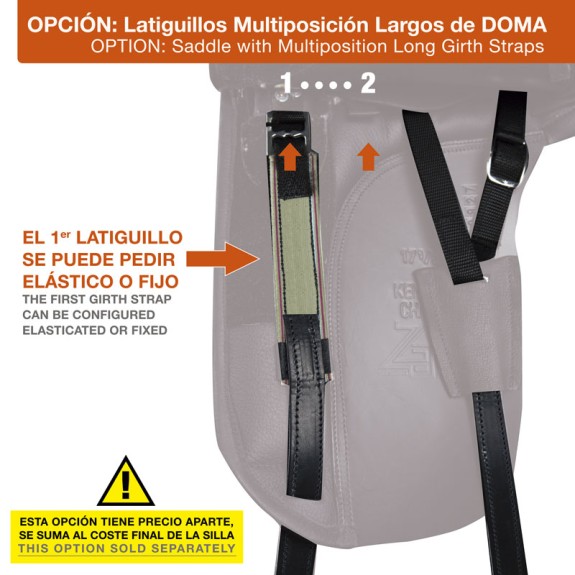 009150/0100142 Multi-position front billet
SRP: $150.00 (Included front billet strap)
Option to be ordered with 2G saddle
OPTION of First Elastic billet with 2 positions of EASY exchange
* ref. 00914 Doma lengths | Dressage, Long Girth Straps
This option incorporates:
1.- First multi-position elastic hose.
Having elastic in the hose allows a great fit respecting the thoracic capacity and breathing of the horse.
Multi-position: You can easily change the position yourself.
POSITION A: first or advanced
Solves possible displacements or forward swing of the saddle.
POSITION B: Second or delayed
Recommended for horses that need more freedom (less pressure) in the back (shoulders).
Easy replacement of billets without need of a saddler replacement of billets.
Replacement billet: 010014 (replacement long multi-position hose with front row) can be ordered with or without the elastic.
2- Monoquartier effect (One single flap/skirt)
Prevents flapping of the skirt. Thanks to the combined fastening effect of the velcro between the skirts, the billet skirting aligner on the outer skirt and the passage of the front billet through the inner skirt.
3 - Second billet in "V" design
You will have 3 attachment points to the saddle. Maximum support of the saddle on the back of the horse (first in front, the second in the middle of the saddle and the third in the area behind the back). Avoiding micro-impacts on the back avoiding popping up and own of the rear of the saddle.
It incorporates the possibility of adjusting the position of the 2nd billet. It allows the adjustment and inclination of the second billet according to individual needs of cinching by means of buckle and velcro.
The buckle allows changing the billet easily.
Replacements straps: 0100141 (replacement multi-position long V-billet strap).
They are configurable options for the Zaldi saddles of the 2G Collection as well as for the high and medium range. Request the specific configuration for your saddle before purchasing.
Color: Black, Brown, Havanna, Tobacco
Related Products