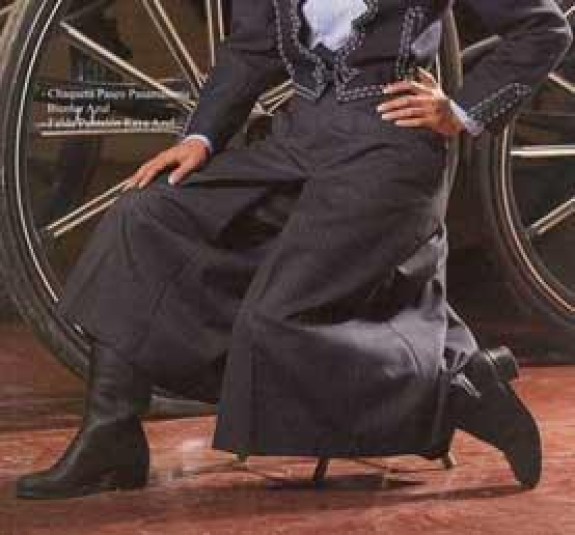 F50221FALDAPANT Campero Split skirt
50221FALDANT Campero Split Skirt "culottes"
SRP: $280.00
In Stock: Call for available sizes
Camero skirt pants or "culottes" have a look like a floating elegant skirt, but actually are pants. These are used for campero suits when horse riding, as they are very suitable and comfortable to ride astride. while still having the styling of a skirt. Fabric is a cotton polyester blend.
Color:
Black, Brown/white strip, grey/white stripJacket: beige pinstrip
Split Skirt/Culottes
T - 32 Waist: 64 cm Length: 92 cm
T – 34 Waist: 68 cm Length: 92 cm
T – 36 Waist: 72 cm Length: 92 cm
T – 38 Waist: 76 cm Length: 92 cm
T – 40 Waist: 80 cm Length: 92 cm
T – 42 Waist: 84 cm Length: 92 cm
T – 44 Waist: 88 cm Length: 92 cm
T – 46 Waist: 92 cm Length: 92 cm
**DHS does not have a permanent stock of all models of Spanish clothing. An item, size or color you want can be requested with an approximate delivery time of 30 days.
Contact us for additional information on size and design.
All items are made in Spain or Portugal