00156 San Jorge Plana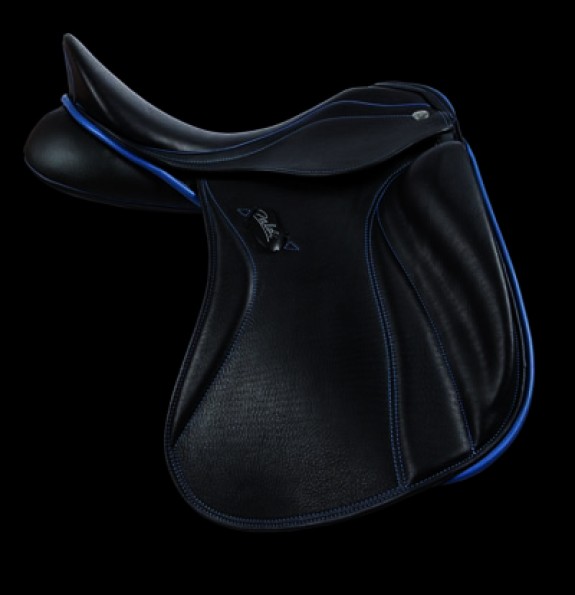 00156 SAN JORGE PLANA
SRP:$4670
$5140 (18.5 &19" Seat is an up charge)
In Stock: Call to Order
Like the San Jorge the Plana is the same saddle with a semi-deep seat and comfortable tree, this saddle allows a maximum close contact rider-horse. For those horses with a flatter back the Plana is the better candidate. for the rider, new stirrup bar at an inclination 15% to get a correct position for rider. New ergonomic design (long flaps) with double knee pad to ride in 2 different positions. Mixed panel, waterproof antisweat wool and rubber latex to balance the horse back. Long girth straps with "V" system. Special flexible, elastic and durable leather is used to make this special saddle.
Good qualities to make it different among other dressage saddles. Excellent leather, flexible tree, ergonomic design... to have free movement, closer contact, confidence. The best professional riders bet for it.
Material: New european natural leather, more resistant and flexible. Latex seat very deep but comfortable. New flap design. Ergonomic dressage flap. Wool panel with rubber stopper. Knee pad in 2 positions. Air inside of knee pad. Tree of polypropylene elastic and resistant. Short stainless steel stirrup bar at an inclination 15%. Long girths straps with "V" system. Front girth strap to hold back horse.
ECHNICAL INFORMATION
-Material: it is made of a new natural European leather of box-calf and vegetal croupon, especially selected, more resistant and flexible.
-Semi-deep tree for dressage.
-Latex rubber seat, semi-deep and comfortable.
-Outside 2-position kneepad with air intake.
-New flap with ergonomic design.
-Wool panels with a latex rubber layer.
-Tree made of thermo-molded polypropylene, using the latest modern technology.
-Short stainless steel stirrup bars at an inclination 15%.
-Long girth straps with "V" system.
-Size -Rider: from 16" to 18" - 19" / -Horse from 28 to 34 cm.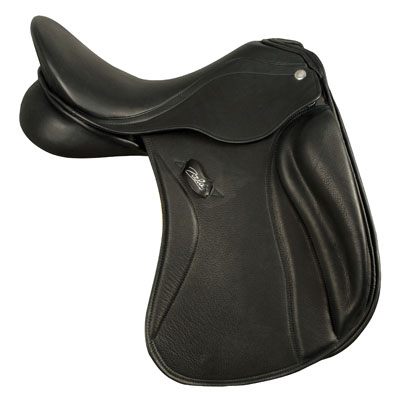 HISTORY OF A DRESSAGE SADDLE. FROM KENT TO SANJORGE.

In ZALDI, our objective has always been to progress and to improve the saddles. We count with the fact of being manufacturing four generations ago and besides, with the advantage that our director is a rider and he practices the dressage. With these patterns, the "future" riding saddle was based and developed from the old model KENT.

In a rider's meeting, experimented and professional ones as much as amateurs deviced to raise the backside of the saddle and to place the front pad outside, an unusual fact in that time. With that they approached to the most fitting position for the rider, which all the rider dreamt. Thus, the saddle ZALDI NEW KENT was created, which has had a great acceptance for years on the ride's side. This saddle is ideal for dressage, for professional or amateurs, besides its indisputable quality-cost relationship.

This riding saddle also evolved. We moved a step forward and thought about its elaboration with materials of the highest quality, joint to the application of advances that emerged from the last technological developments in the tree and design that ZALDI was making. All these, together with a semi-deep seat that allows a position with certain freedom of movement and a great contact at the same time, contributed to the creation of the dressage saddle SANJORGE PLANA.

Espectacular, it joints qualities that make a difference among the saddle of Classical Dressage. Superb leather, flexible tree and ergonomic design are translated into freedom of movements, contact with the horse, fitting and the best experience of confidence. The rider finds in this saddle the expression of him/herself. Great riders and professionals all around the world bet on it.

Being receptive to the requests of the riders to ZALDI, the model SANJORGE PLANA also led into a model of deep dressage only denominated SANJORGE. It has a very deep and comfortable new tree, this saddle allows a superb contact rider-horse. The rider's legs rest on a new stirrup leather with an examined 15% of inclination that achieves the most correct positon for the rider, mending the mistakes of the inexperienced and letting the expert to develop.

New ergonomic design for the flap (straight flaps) arranged with a double kneed pad with 2 pads in 1 that allows the riding in two different positions. Mixed panels, filled with wool with a treatment that repels water and sweat, and rubber-latex pad that avoids swinging on the back of the horse, obtaining a great seat and favouring the freedom of the horse. Mixed separated girth straps that offer absolute fastening to the horse obtaining the maximum contact rider-horse. One forwards to avoid the saddle to move forward to the wither horse and thus provides a easier movement of the back. One backwards with "V" system holds tight the saddle and do not produce balancing on the backside. Special leather material which is very flexible, elastic and long-lasting. Nowadays it is also produced with colour combination, for example, brown and dark london in the model SANJORGE BICOLOR.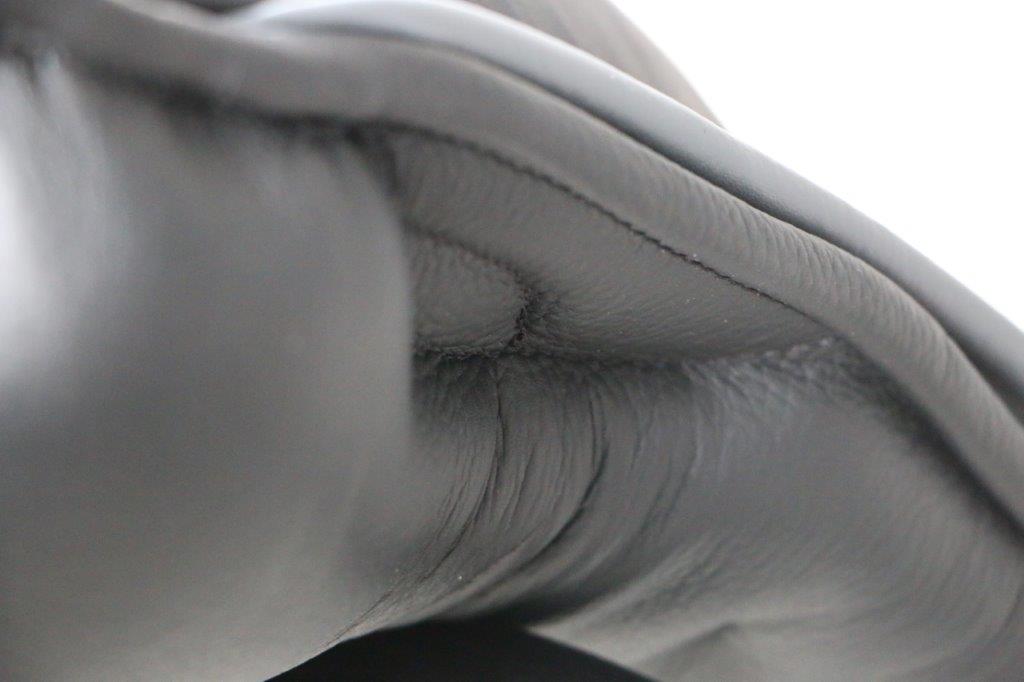 Optional Anatomic Shoulder Free panels
HOW TO ORDER
Related Products
Anatomic design for maximium rider and horse comfort.. Zaldi Traditon and Technology combined in this innovated design.,