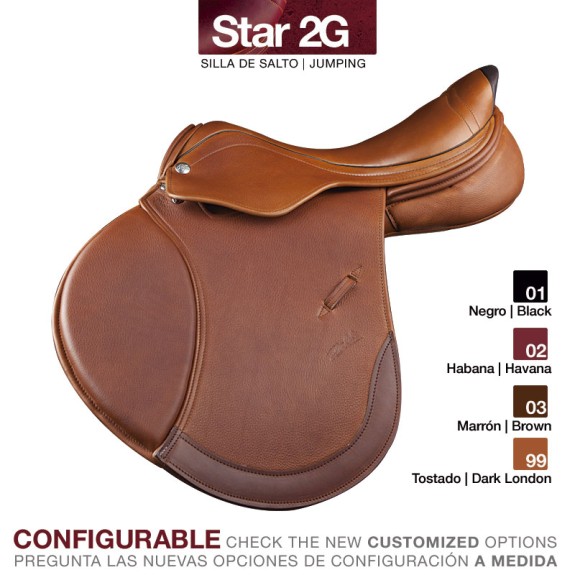 Star 2G
00172
SRP: $3240 (base before options)
In Stock: Call to order
An innovative model of the new Zaldi 2G saddles collection with different options of configuration.
STANDARD FEATURES
• Made of top quality European selected leather.
• Latex rubber semi-deep seat.
• Jumping flap. Inside knee blocks.
• Intelligent latex rubber panels.
• Semi-deep tree for jumping, made of special materials, using leading technologies. Saddle tree with 10 years guarantee.
• Stainless-steel safety stirrup bars.
• Short girth straps.
• Available sizes - Rider: 16", 16,5",,17",,17,5",18"
Tree Sizes: 28 - 34 cm
Colors: Black, Brown, Havana, Tobacco, London
EXTRA OPTIONS FOR CONFIGURATION (Download configuration sheet).
Tree Options:
00172 POLYPROPYLENE saddle tree (ADJUSTABLE BY A SADDLE FITTER)
00173 CHANGE Saddletree
1. Stirrup bars: Short / Long / 2 positions / 4 positions.
2. seat and tree size
3; stirrups bar, 4 standard options 1 upcharge option
4 seat standard or 2 upcharge options: 00902 Extra-comfortable seat or 00918 Country seat
5. Leather options: boxcalf or crupon
6. Channel width
7. Panels, standard or upcharge option 00916 Multi-Position panels
8. panel options: standard, anatomic or upcharge 00913 Drop Panel
9. KNEEPADS: TM-with screws velcro under the flap or sewn exterior
10. Block options:
Front block- TM- 3 styles Special, Jump, Eventing
Velcro - 6 styles Cross, Royal, New Star, Ledyard, Top Jump, Zaldi
Back Block: Exterior or interior
5 styles Cross, Royal Event, New Star, Ledyard, Zaldi
11. Girth Straps/Billets Normal 3 billets, upcharge M00913 Multiposition 1st billet, with or without elastic
12. Color combinations, Bi-color or solid, stitching, piping and trim
13. Ladies saddle option, 1cm wider between the piping the twist of the seat.
The innovative model of the new Zaldi 2G saddles collection with different options of configuration (Download configuration sheet).
nations can be made as regards to leather, stitching, piping, edge strips…
** The saddle of the picture is configured with the polypropylene saddle tree, with the option of extra-comfortable seat ref. 00902, also with the option of the anatomic panel and first girth strap elasticated ref. 00903. With multi-position refillable panel ref. 00916 and short multi-position girth straps for jumping ref. 00915.
Measurement Chart:
Star
00172/00173
Seat
Weight
Flap (FROM STIRRUP BAR)
Panel
Panel Supported area on back
16"/41cm
N/A
N/A
N/A
N/A
16.5"/42cm
N/A
N/A
N/A
N/A
17"/43cm
5.4KG
37CM
46CM
39CM
17.5"/44.5cm
5.6KG
38CM
49CM
40CM
18"/46cm
5.8KG
39CM
47CM
41CM
Inside Knee Block:
313CM X 6CM X 4CM
Inside back block:
11cm x 5cm x 4cm
**flap length is measured form the
stirrupbar to the bottom of the flap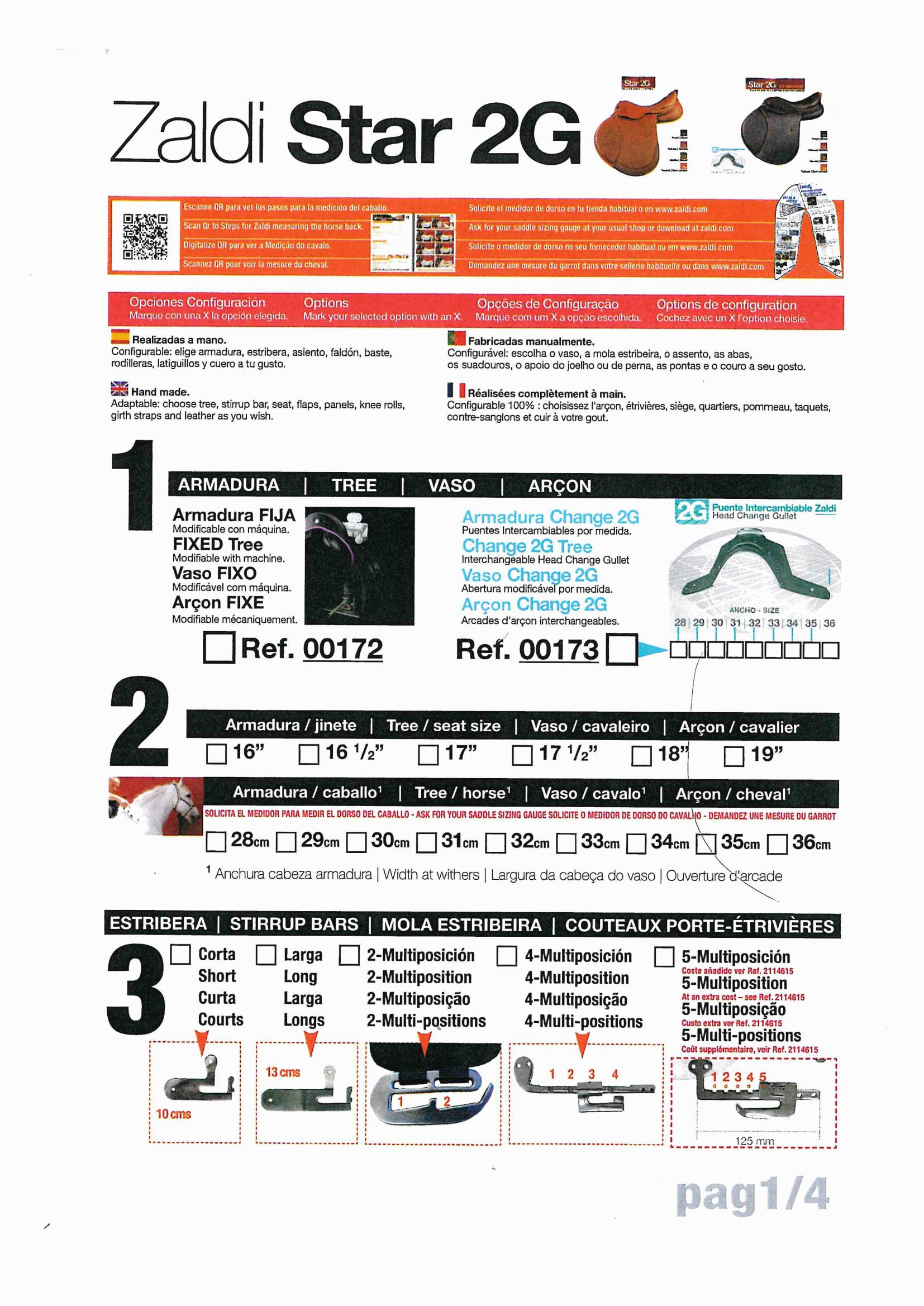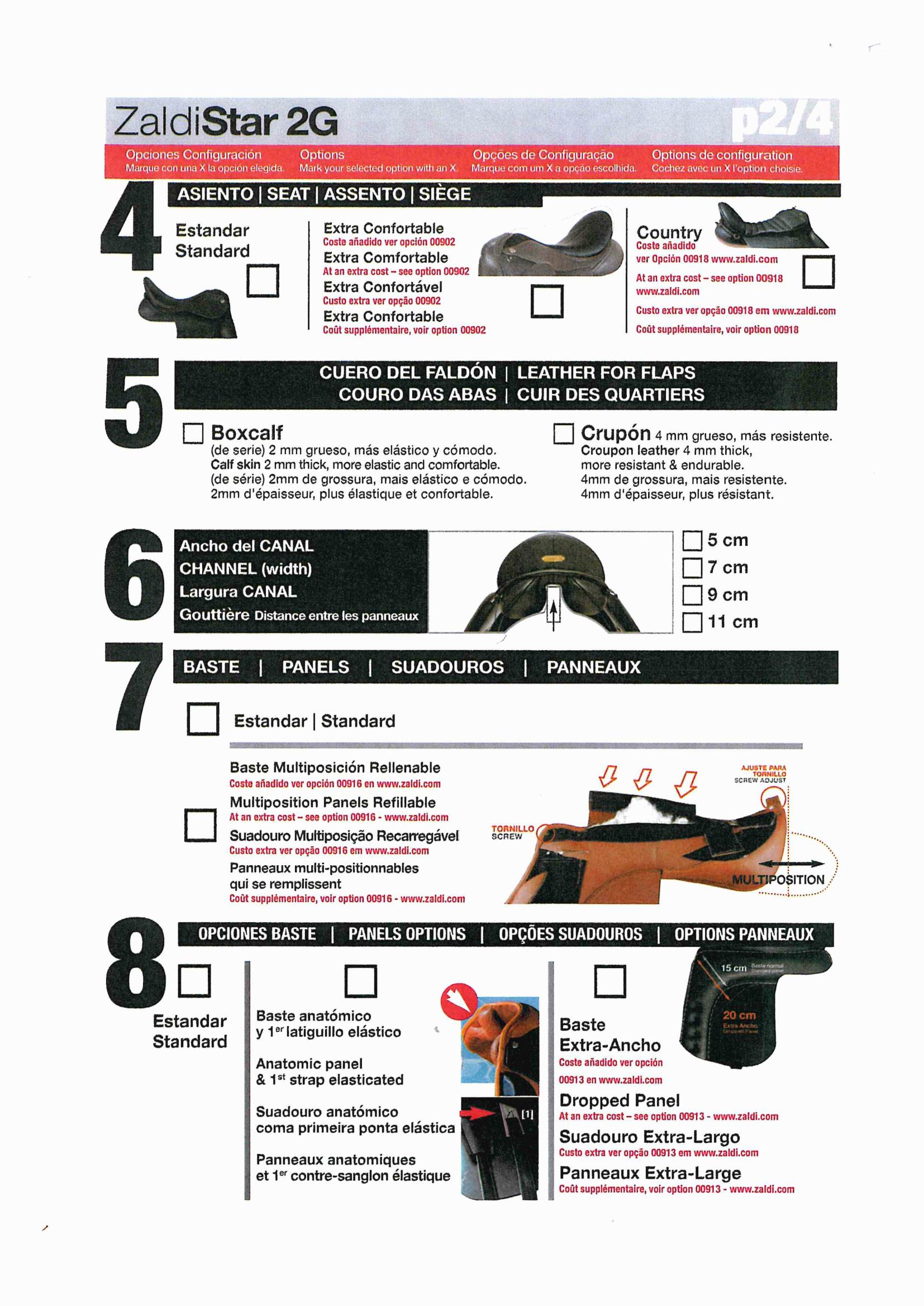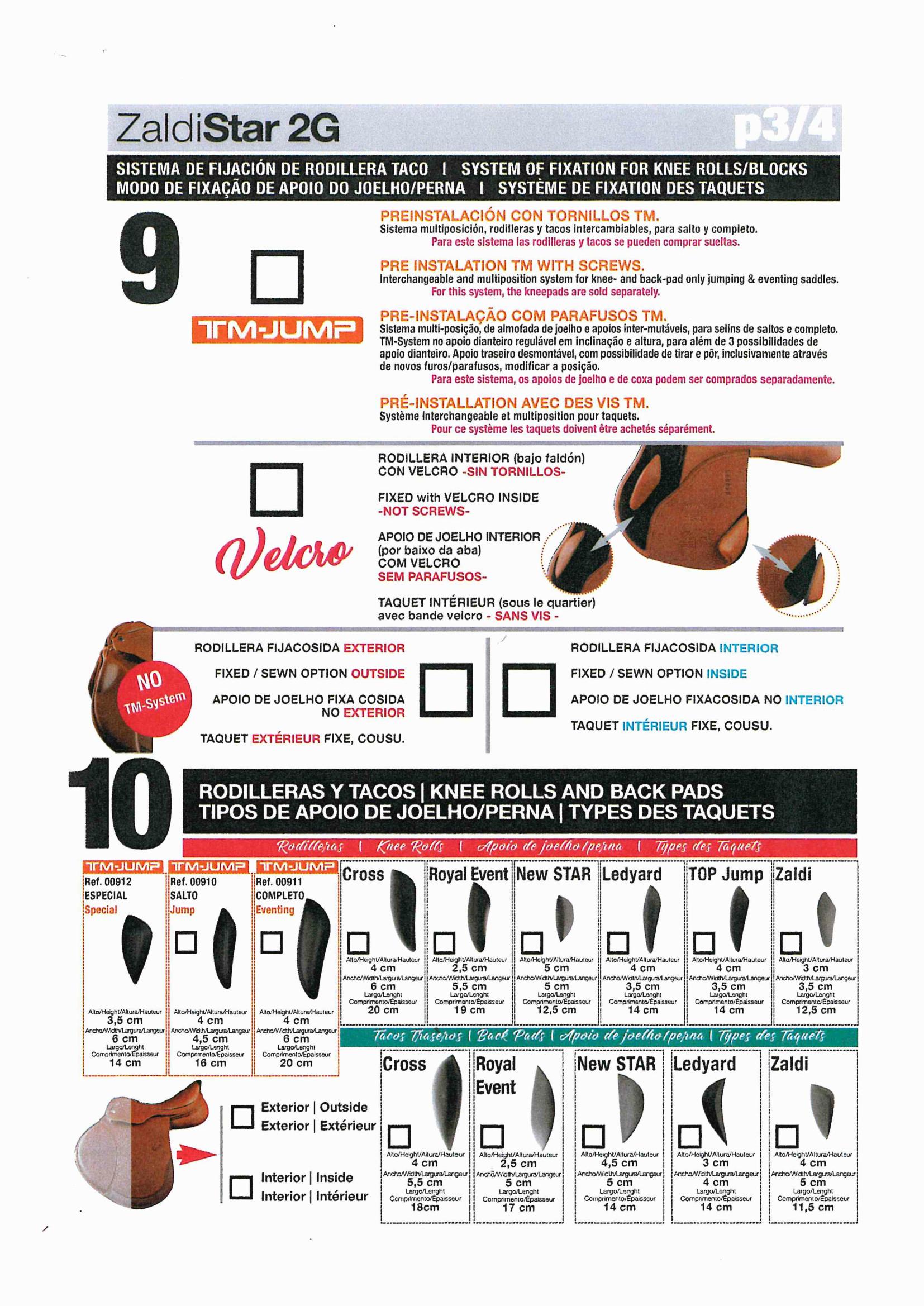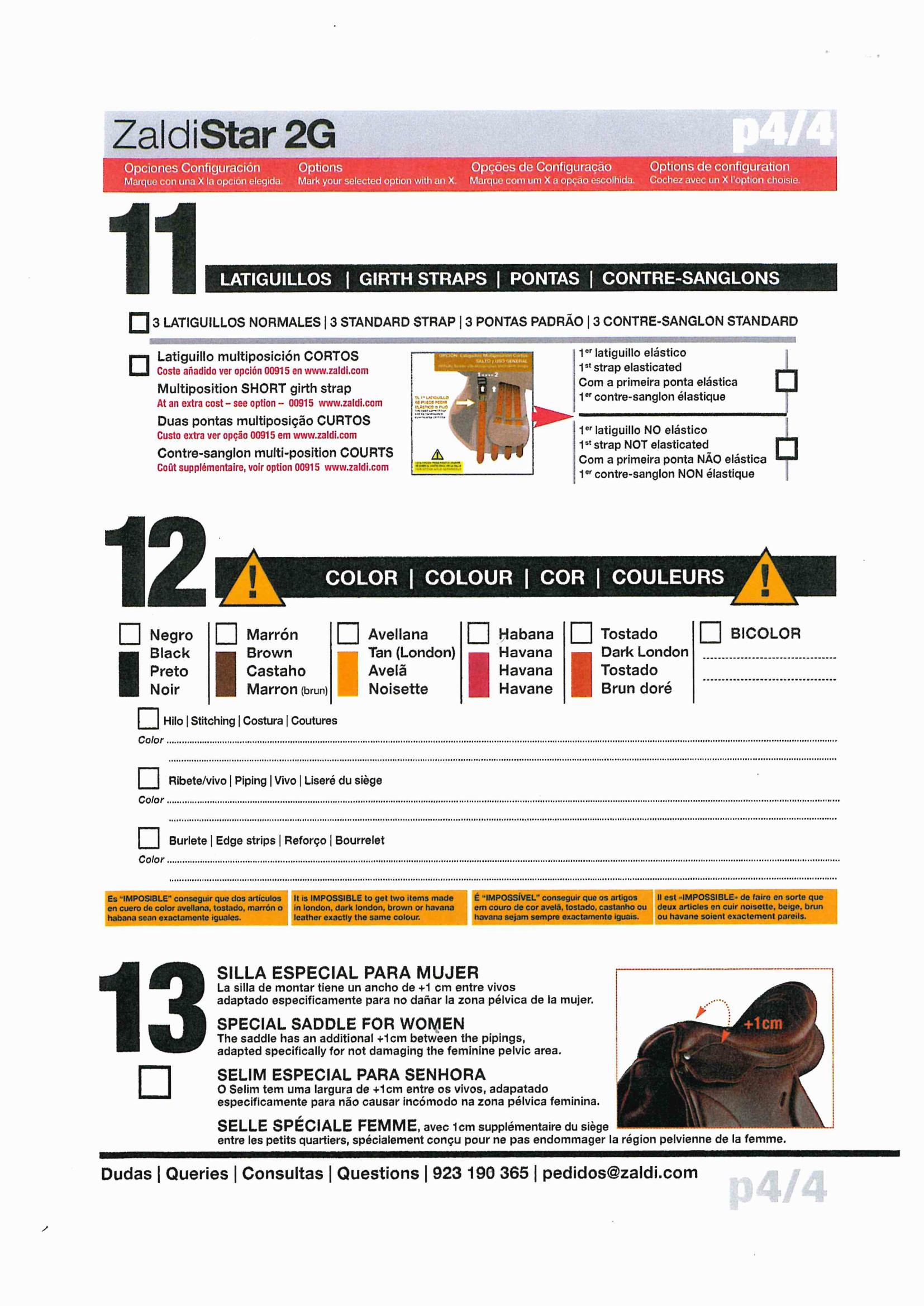 BREAK IN TIME

0 MINUTE
When you put your new saddle on the horse, it seems that it does not fit at all… It is necessary a bit of time for it to fit… Relax!

1-15' MINUTES
Girth your saddle, although it will be a bit loose and it seems it does not fit yet. Don't despair! Get on the horse…

15 - 60' MINUTES
The panels start to adapt to the back of the horse in the correct way. It is possible now to girth it one or two holes tighter.

5 - 10 HOURS
While riding, the saddle continues to adapt. The distribution through the panels of our weight helps to reach a perfect a fitting and adaptation. We can adjust the girth a bit more.

+15 H HOURS
We get an ideal fitting. We feel comfortable on the saddle while it rests/leans where and how it should on the back of the horse. We can now adjust the girth firmly.

DON´T DESPAIR!! Remember that there is a necessary break in time for the best fit. Trust ZALDI!!!