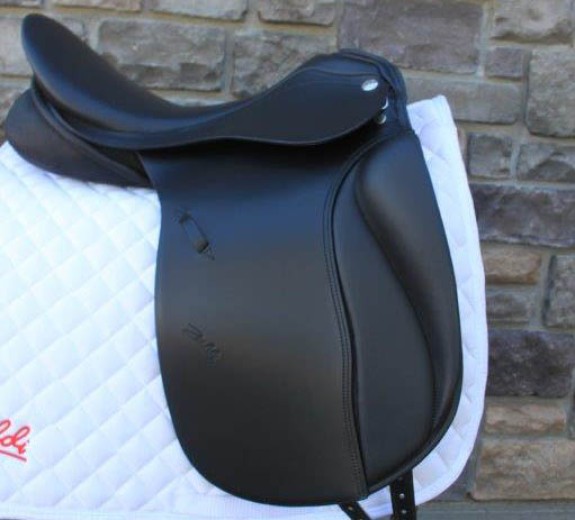 00135 New Kent
00135 NEW KENT
SRP: $3260
19" (up charge) $3580
Balance in price, advantage in quality. Ideal for dressage, for professionals as well as amateurs. For its design it is very comfortable, even for long walks.
In a rider's meeting, with riders of all levels, amateurs and professionals made suggestions to raise the cantle and to place the front knee blocks on the outside of the flap, an unusual fact in that time.
Accompanied with the classic rider position, we now offer what these riders dreamed of. Thus, the saddle ZALDI NEW KENT was created, which has had a great acceptance for years on the riders' side. This saddle is ideal for dressage, for professional or amateurs, besides its indisputable
quality-cost relationship.
Material: it is made from European selected leather of box-calf and vegetal crupon.
Knee pad.
Latex rubber seat.
Straight flap.
Panel made of wool.
Tree made of special material, using the latest modern technology.
Semi-deep tree for dressage.
Short safety stainless steel stirrup bars.
Long girth straps.
At present, besides the classical colors; it is possible to make multiple combinations in leather, threads, piping and edge strips...even black leather and pink piping and stitching.
Size: Rider 16" 16,5" 17" 17,5" 18" (upcharge for ) 18.5 & 19" -
Horse from 28 to 34 cm.
Option: Full Double Calf upcharge $300
Measurement Chart:
00135 New Kent
Seat
Weight
Flap
Panel
16"/41cm
6.4kg
39cm
46cm
16.5"/42cm
6.6kg
40cm
47cm
17"/43cm
6.8kg
41cm
48cm
17.5"/44.5cm
7kg
42cm
49cm
18"/46cm
7.2kg
43cm
50cm
Knee block
30cm highx6cm widex4.5 projection
**flap length is measured from the
stirrup bar to the bottom of the flap