00183 Drim Atlanta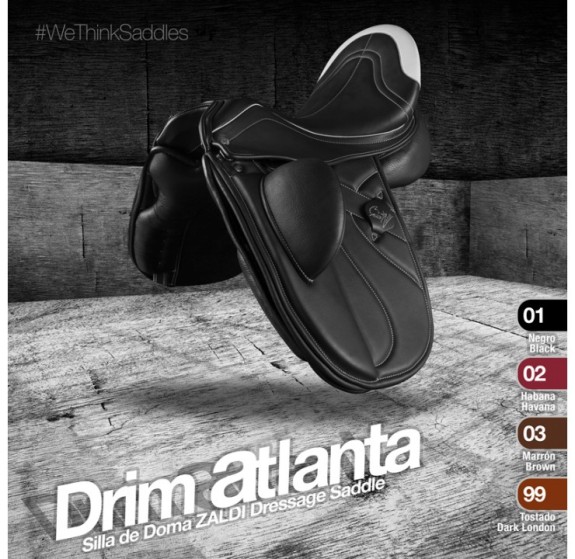 SRP: $6170 (base before options)
In Stock: call to order
Zaldi understands the saddle as the connecting element between horse and rider.
Versatile dressage saddle by Zaldi fully configurable for horse and rider. You as the rider get to choose how your saddle comes to you.
CONFIGURABLE OPTIONS:
:• Tree and seat size
• Stirrup bar style
• Seat dept.
• Style of flap.
• channel with
• Panel: long, short or multi-positon.
• Panel Options: standard, anatomical or extra wide
• Knee blocks: fixed in several styles and sizes of TM system
• Billets: V-system, parallel or multi-position
• Leather color options, reflect your own style
• Optional female seat: 1cm wider at the pommel
Manufactured on fixed semi-deep dressage reinforced tree in high tech materials (EPDM polypropylene) with a 10-year warranty.Tree Sizes: 28 - 34 cm
Panels are wool
Seat sizes: 17", 17.5" and 18"
Colors: Black, Brown, Havana, Tobacco, London
Has the characteristics simular to the Kent 2G model (rfer.00118)
Measurement Chart:
MOT
00182
Seat
Weight
Flap (FROM STIRRUP BAR)
Panel
Panel Supported area on back
16"/41cm
N/A
N/A
N/A
N/A
16.5"/42cm
N/A
N/A
N/A
N/A
17"/43cm
7.8KG
40CM
48CM
43CM
17.5"/44.5cm
8KG
41CM
49CM
44CM
18"/46cm
8.2KG
45CM
50CM
45CM
Knee Block:
20CMX8.5CMX9CM
**flap length is measured form the
stirrupbar to the bottom of the flap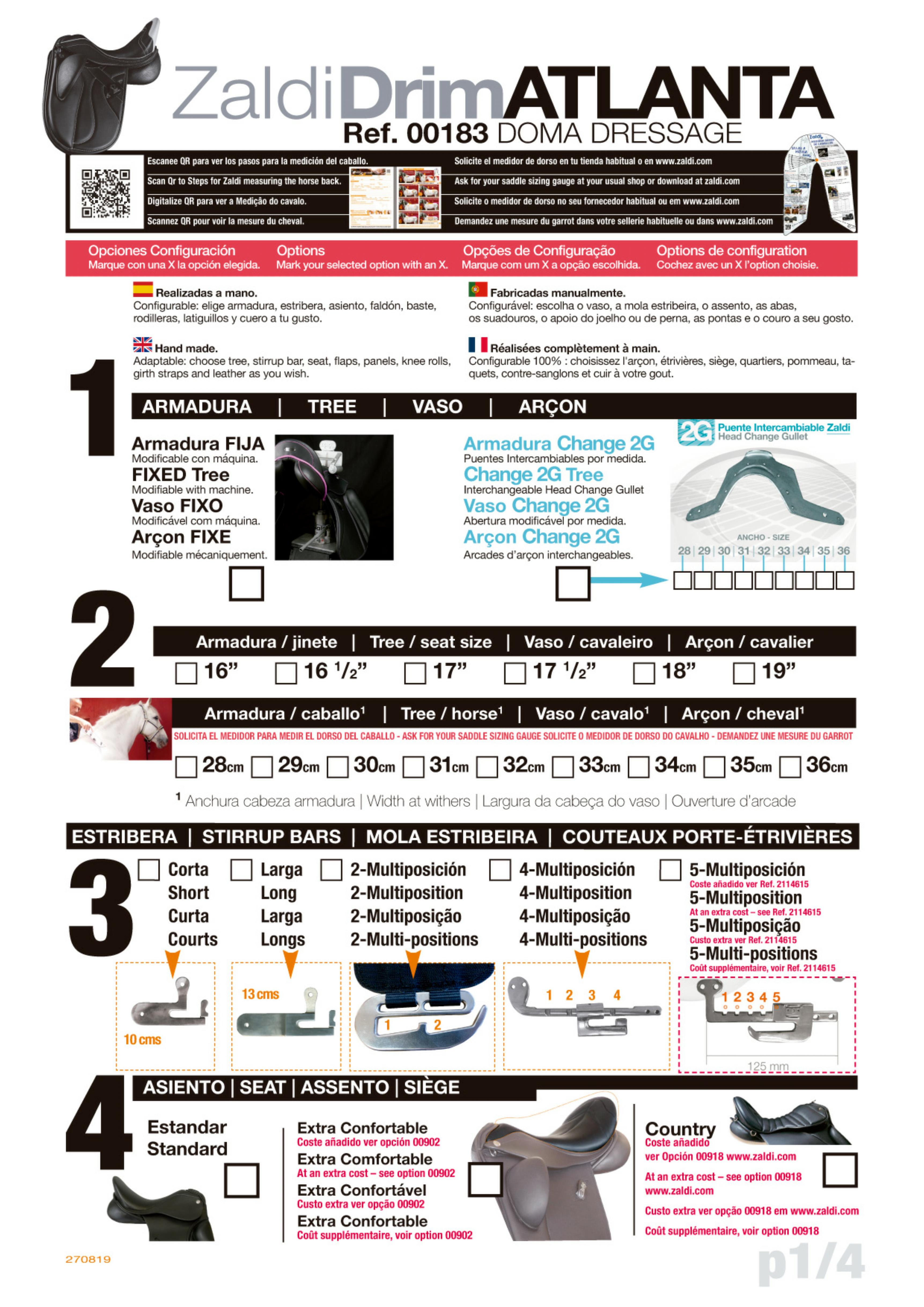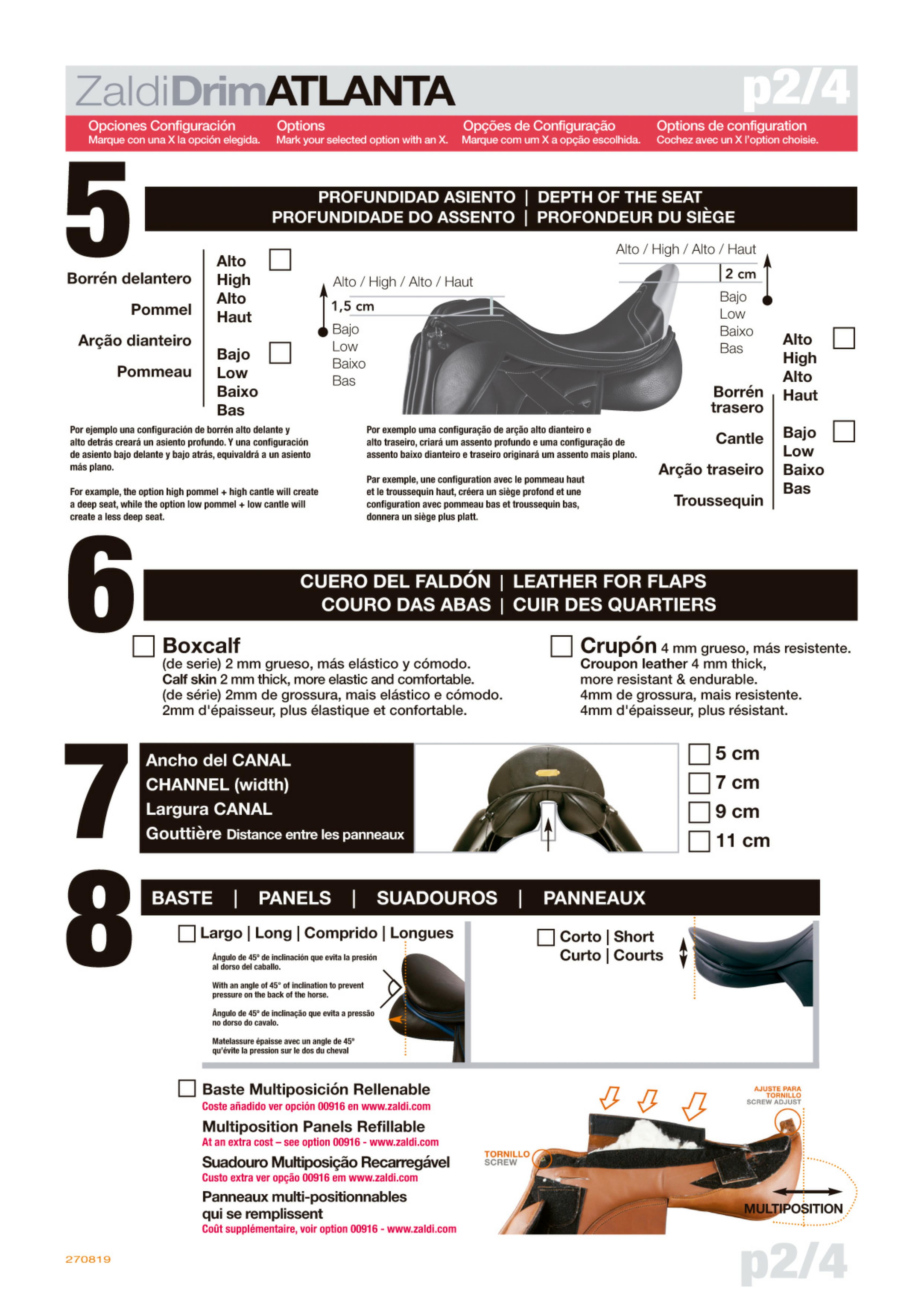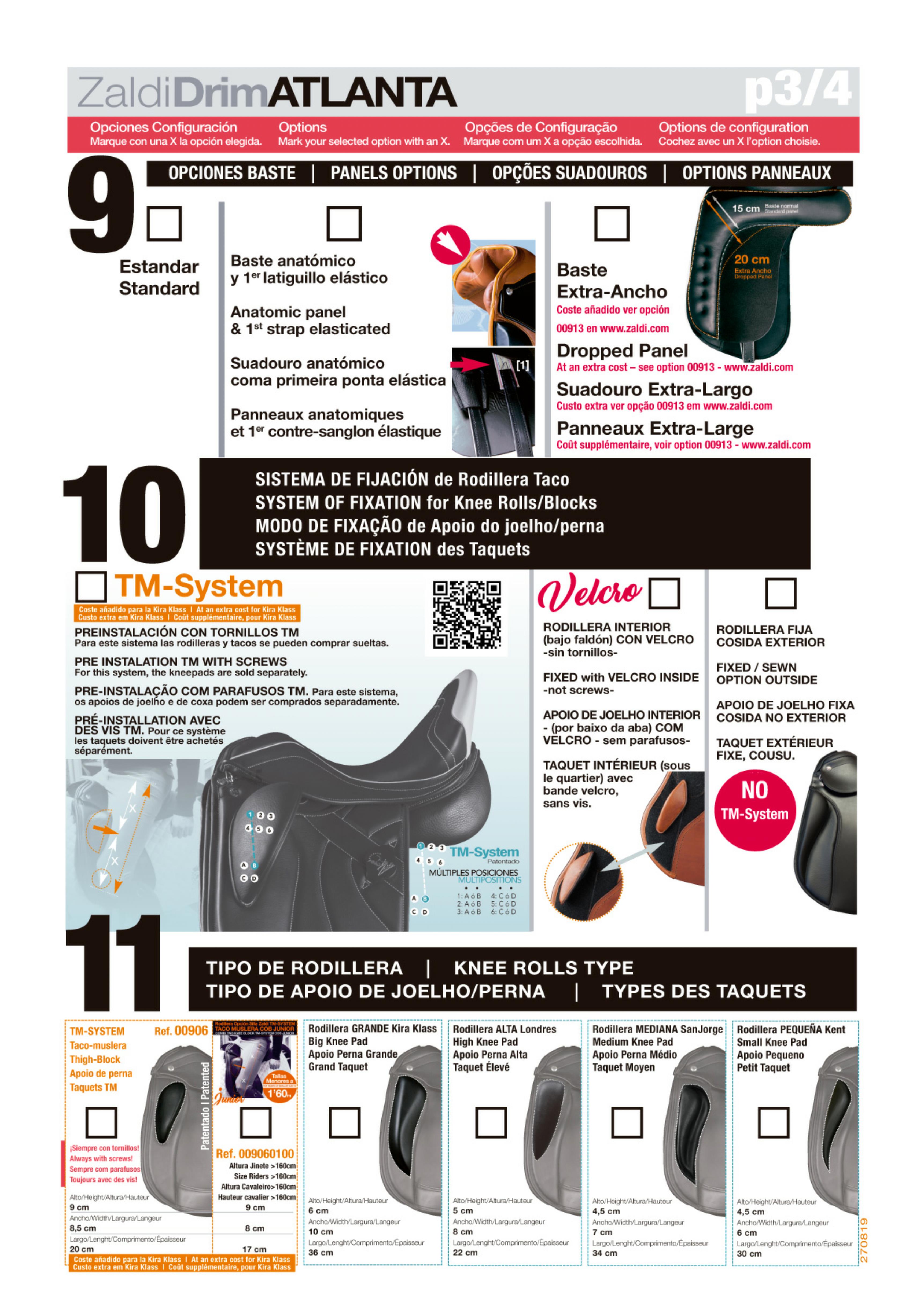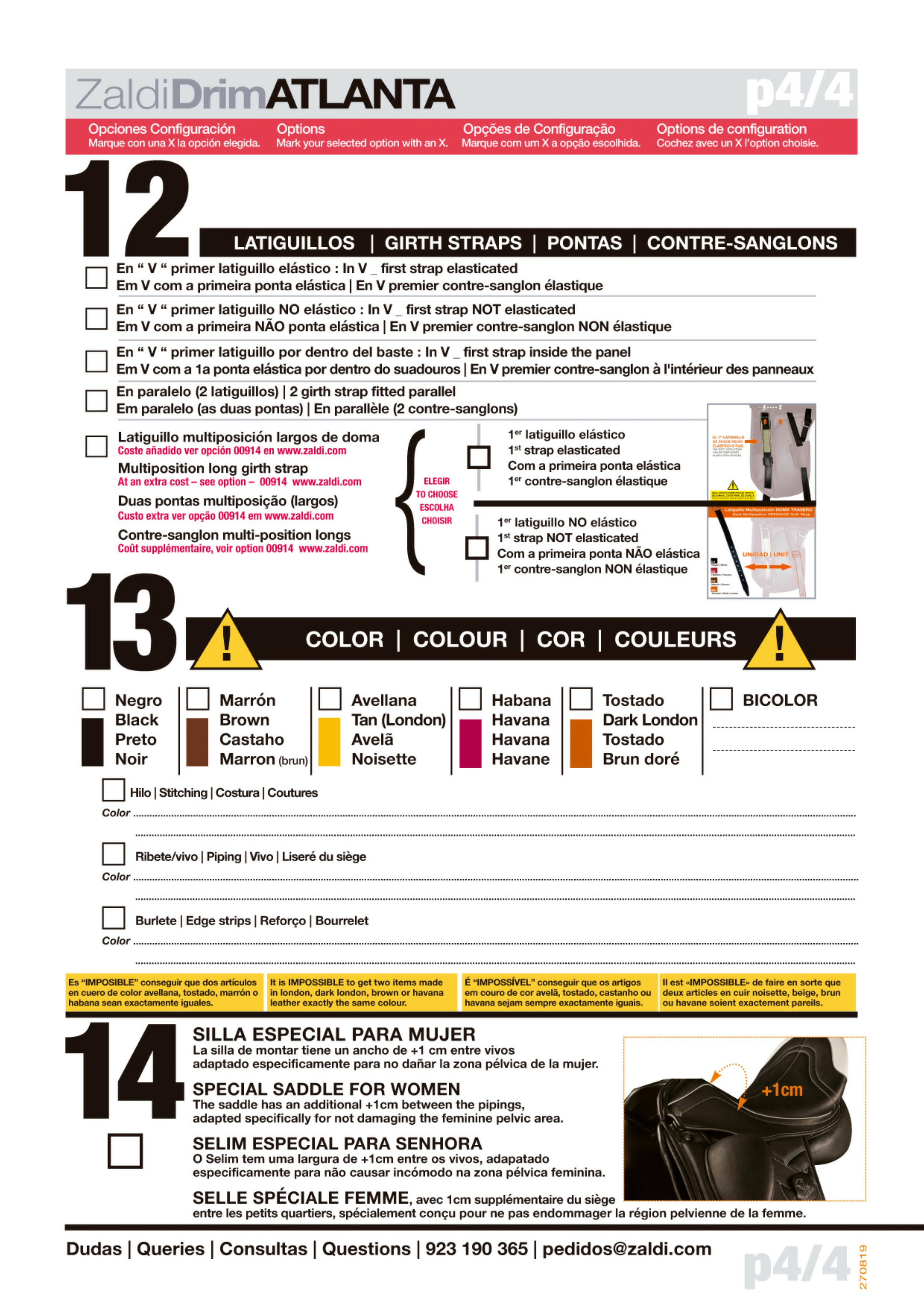 BREAK IN TIME

0 MINUTE
When you put your new saddle on the horse, it seems that it does not fit at all… It is necessary a bit of time for it to fit… Relax!

1-15' MINUTES
Girth your saddle, although it will be a bit loose and it seems it does not fit yet. Don't despair! Get on the horse…

15 - 60' MINUTES
The panels start to adapt to the back of the horse in the correct way. It is possible now to girth it one or two holes tighter.

5 - 10 HOURS
While riding, the saddle continues to adapt. The distribution through the panels of our weight helps to reach a perfect a fitting and adaptation. We can adjust the girth a bit more.

+15 H HOURS
We get an ideal fitting. We feel comfortable on the saddle while it rests/leans where and how it should on the back of the horse. We can now adjust the girth firmly.

DON´T DESPAIR!! Remember that there is a necessary break in time for the best fit. Trust ZALDI!!!
How To Order
Related Products
Introduction the latest design in the Tradition and T + T Technology, incorporating innovative, attractive styling, with the latest technological developments. Together with the most advanced veterinary and medical studies, guidelines of great saddlefitters of international prestige. 50 years of experience as saddlers and having our own factory, allows us to launch this new line of fully configurable saddles for your pleasure.