Zaldi Sheepskin Zalea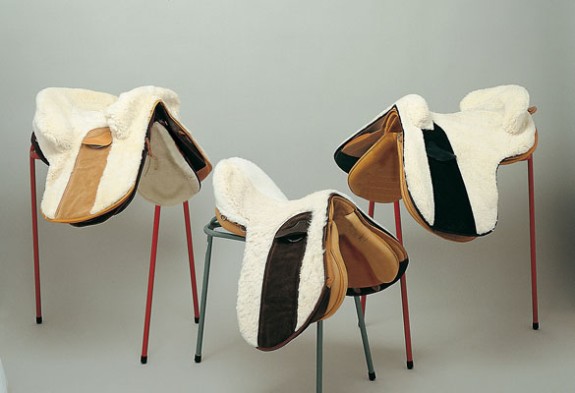 011100100 Zalea Sheepskin cover
Price: $410-$498
DESCRIPTION
Sheepskin and leather cover handcrafted for each model of Zaldi saddles from natural sheepskin with your choice of leather trim.
Protects the saddle
English styles require a seat size to order. 16.5"- 18"
Spanish and Portuguese seat sizes 30,35,40cm
It provides comfort and artisan aesthetics.
Natural sheepskin- black or white.
LeatherTrim colors: Black (001), Brown (003), London (009)
Manufactured in ZALDI.
011100100 Z-E FUR COVER ESPAÑOLA SADDLE $498.98
011100200 Z-E FUR COVER PORTUGUESA SADDLE $498.98
011100220 Z-E FUR COVER Paulo Caetano SADDLE $498.98
011100300 Z-E FUR COVER MIXTA SADDLE $498.98
011100400 Z-E FUR COVER POTRERA SADDLE $498.98
011100600 Z-E FUR COVER ENGLISH SADDLE $410.00
011100610 Z-E FUR COVER NEW-KENT SADDLE $410.00
011100620 Z-E FUR COVER COUNTRY SADDLE $410.00
011100630 Z-E FUR COVER OLYMPIC/JUPITER $410.00
011100640 Z-E FUR COVER ROYAL SADDLE $410.00
011100650 Z-E FUR COVER LUSITANUS SADDLE $410.00
011100660 Z-E FUR COVER MILENIUM/PLATINIUM $410.00
011100670 Z-EXTRA FUR COVER SANJORGE SADDLE $410.00
011100800 Z-E FUR COVER MONTAÑA SADDLE $498.98
011100900 Z-E FUR COVER SCHOOLER SADDLE $498.98
011101100 Z-E FUR COVER ALTA ESCUELA SADDLE $498.98
011101200 Z-E FUR COVER REAL ESCUELA SADDLE $498.98
011101300 Z-E FUR COVER RONDA SADDLE $498.98
011101400 Z-E FUR COVER TRADES T+T SADDLE $498.98
011102000 Z-E FUR COVER MENORQUINA SADDLE $498.98
011102000 Z-E FUR COVER MENORQUINA SADDLE $498.98
011102100 Z-E FUR COVER NEW-TRADES SADDLE $498.98
011102200 Z-E FUR COVER ALTRAS SADDLE $498.98
011103300 HALF FUR COVER FOR ZALDI ENGLISH SADDLE $498.98