1216 Quantum Western Short and Light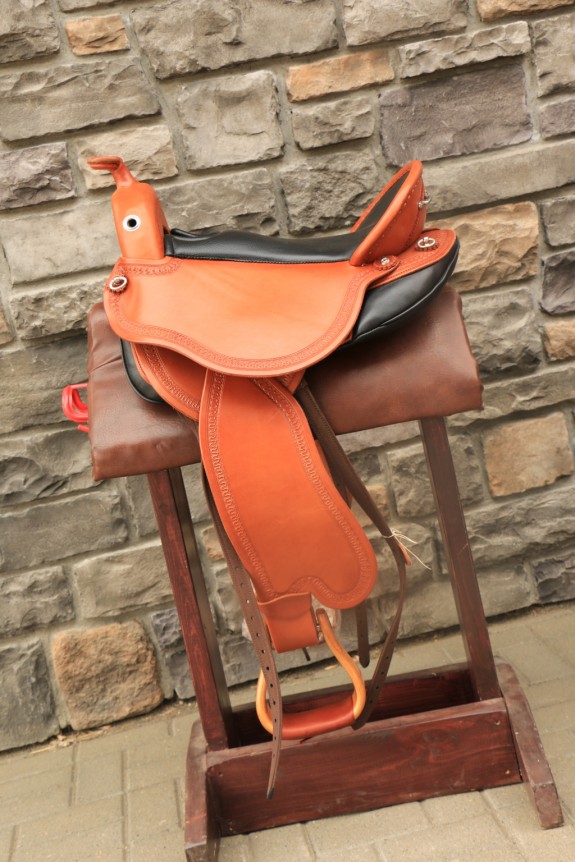 1216 Quantum Short & Light Western
Base price: $3374US excluding duty and shipping (Due to Fluctuation in Canadian currency)


In Stock: Call to order
Tree: Ultra-Flex-tree
Gullet: completely adjustable gullet width
Seat size: S1, S2, S3
Saddle leather: Natural, Chestnut, HB2, Havanna, African, Black
Seat leather:
Nappa or Nubuck - colors: sand, cognac, brown, black
Aspen - colors: tobacco, rattan, blackberry, black
Special colors available (upcharge applies)
Hardware: brass, stainless steel
Tooling: Upcharge applies (see our information page for available tooling options)
Length of Fenders: approximately 22.5", 27", 31"
Stirrups: rawhide, Wooden Visalia Stirrups (upcharge applies)
Weight: approximately 20 lbs.
Saddle length: approximately 21 inches
Skirt length: approximately 12 inches
Special: Fender glide protection
For those who love the classic Western Saddle but need something shorter and lighter, we have built a saddle that is almost unheard of: A Western Saddle on an English tree! This short and light saddle is built on our fabulous Ultra-Flex tree with fully adjustable gullet width from narrow to extra wide. It has the wool flocked panels for extra comfort for horse and rider and is fabulous for those seeking for comfort for their horse and themselves. With a softly padded seat, this saddle is ideal for long trail rides, gaited horses, and endurance riders.
SEAT SIZE
Our saddles are available in 4 different seat sizes (measured on the bare tree prior to being built)
​S1 ≈ 16.5" (compare to 15" Western or 16.5" English)
S2 ≈ 17.5" (compare to 16" Western or 17.5" English)
S3 ≈ 18" (compare to 17" Western or 18.5" English)
S4 ≈ 19" (compare to 18" Western or 19.5" English)
(S4 is a special order only, upcharge applies, and is not available on all models. Exclusions are the following models: 1212 El Campo, 1211 El Campo Shorty, 1216 Quantum Western Short & Light, 1214 Quantum Short & Light and all saddles with Leather trees)
​Please note, that the finished seat size depends on the model and can variate slightly between different models. The seat size also depends on the type of gallery (front and back) you are choosing. When in doubt, contact one of our dealers to get the opportunity to sit in one of our saddles first before ordering.
DP Fender Length
Shortest
Longest
S
70CM/27.5"
88CM /34.6"
M
77CM/30.3"
93CM/36.5"
L
84CM/33"
101CM/39.7"
**Measured from the middle of the seat to the tread of the stirrup.
How To Order