00362 Complex Para saddle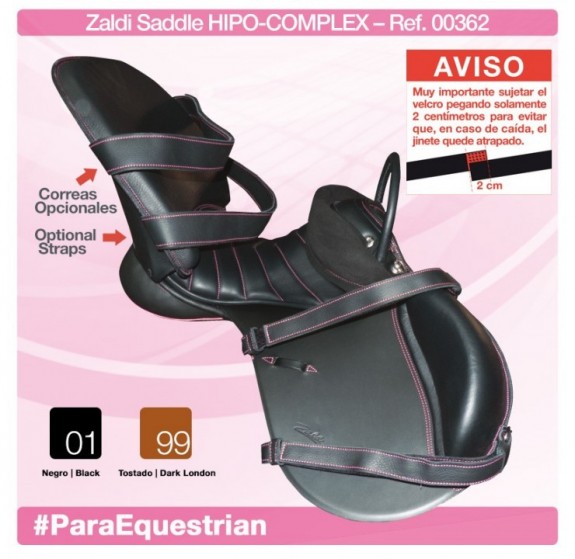 00362 Hipo Complex Para Saddle
SRP: $4670.00 (Specialty items do not include shipping and duty)
Instock: call to custom order
Zaldi always wants to help each rider to find his/her ideal saddle. Our saddle Hipo-Complex can be completely customized and adapted to the needs of each rider. From Zaldi, we want to encourage disabled people to ride, and to have fun riding!!
STANDARD TECHNICAL FEATURES:
Made of best quality European selected leather.
Double rubber-latex seat.
Endurance-type front flap.
Outside kneepad.
Saddletree made of special material, using the latest modern technology.
Stainless-steel safety stirrup bars.
Short girth straps.
Comfortable deep seat.
Fastening straps for the legs and front handle.
Back for greatest comfort and safety.
Colours: Black, brown, Dark London…
Size Rider: 18" - Horse: from 28 to 34 cm. Other seat sizes available on request
Weight: 10.500kgs
APPROXIMATE MEASUREMENTS OF THIS SADDLE IN SIZE 18"
Measurement of the seat: 46cm, from the back of the seat to the Zaldi nail (Please contact us for other sizes).
Length of the panel in the underside: 50cm
Length of the flap (down from the stirrups bar): 38m
Kneepad: 30cm high x 9cm wide x 9cm projection
Back of the seat: 25cm x 40cm
Front handle: 24cm wide x 10cm high.