1212 El Campo Rolf Janzen Demo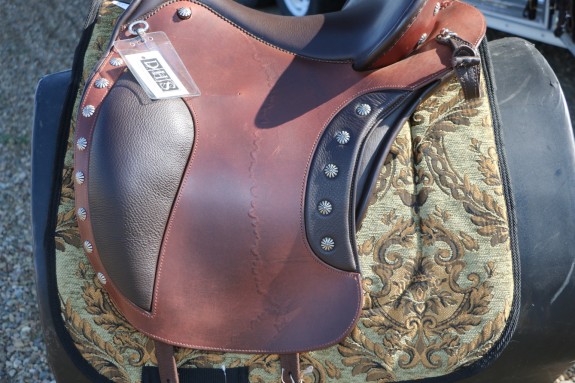 1212 El Campo " Rolf Janzen"
SRP Base price: $ 4800
In Stock: S2 Havana with brown nappa Channel: Medium 6cm (Standard) Light Flocking
Price for Saddle shown in picture: LEATHER BLEMISH (instock) $3550CAD
The "El Campo by Rolf Janzen" was built in close cooperation with Rolf Janzen. Rolf Janzen (www.rolf-janzen.de) is a trainer for classical Dressage and Working Equitation for Horses and Rider in Germany.
Resulting out of this cooperation is a saddle, specially developed for the discipline Working Equitation, that is also well suited for Dressage training as well as long hours in the saddle like trail riding. Via the fully adjustable gullet, the variable 3-Point Billets, the anatomically shaped wool flocked panels as well as the velcro knee rolls are making this saddle so simple to adjust to each rider and horse combination. The seat padding is extremely comfortable and you won't want to get off
This model has a leather blemish, shown on the near side of the flap, would be covered by the riders leg.. The leather used in the near flap shows the vein of the hide. It has no structural flaw, only esthetic value. here is your opportunity to purchase a new El Campo Rold Janzen model for a discounted price.
Tree: Ultra-Flex-tree
Gullet: completely adjustable gullet width
Seat size:S2
Saddle leather: Havanna
Seat leather: nappa brown
Channel Width: 6cm
Hardware: stainless steel
Panels: light wool flocking
Weight: approximately 17.5 lbs.
Saddle length: approximately 21 inches, 53cm
Specials: Velcro blocks for adjustability
This saddle is available for Trial, information can be found under HOW TO at the top of the page.

** All items with discount pricing are final sale. No exchange or store credit.**
How To Order