00154 Royal Event DEMO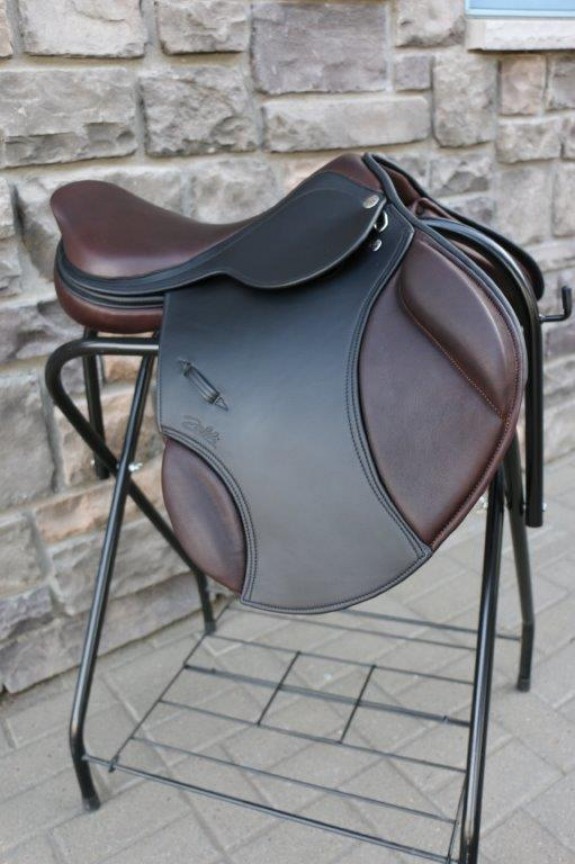 00154 Royal Event
MSRP:$2150
INVENTORY CLEARANCE: $1495
Seat 17.5" Tree: 34 Channel: 11 (Ideal fro a very wide big boned draft)
Color: two tone black and marron (dark brown)
DESCRIPTION
Model of jump chair ROYAL-EVENT based on the Zaldi-Star but with the knee blocks and the thigh block on the exterior.
ROYAL-EVENT based on the Zaldi-Star that has had a great acceptance by the riders for years. This chair is ideal for jumping, both for professionals and amateurs. In addition to a good value for money.
Material: Premium European leather is used in the handcrafted Royal Event.
Semi-deep. Latex rubber seat.
EXTERIOR Kneepad and exterior thigh block
Latex panels ideal for the flat backed horse.
Billets: short
Tree is a Patented design that advanced technology, is flexible and can be adjusted by a qualified saddle fitter.
Guarantee 10 years.
In addition to the classic colors; you can make multiple combinations in leather, stitching, piping and trim.
Seat sizes: Rider 16 "16.5" 17 "17.5" 18 "
Tree sizes: from 28 to 34 cm .
Weight: 5.500kg
Measurements: based on a 17.5 seat
Rider 17.5 "(44.5cm from middle of cantle to Zaldi button)
length skirt from the footrest 36cm
Length of the bottom below 46cm
External kneeblock 20cm x 5cm x 3cm
External rear thigh block 18cm x 8cm x 3cm
This saddle is available for Trial, information can be found under HOW TO at the top of the page.
** All items with discount pricing are final sale. No exchange or store credit.**
How To Order
Related Products
Zaldi Oro hunter Style saddle

Ideal saddle for the Hunter Ring, Clean design, advanced forward flap.


Freedom of Movement, Close contact, mono flap