00134 Alta Escuela DEMO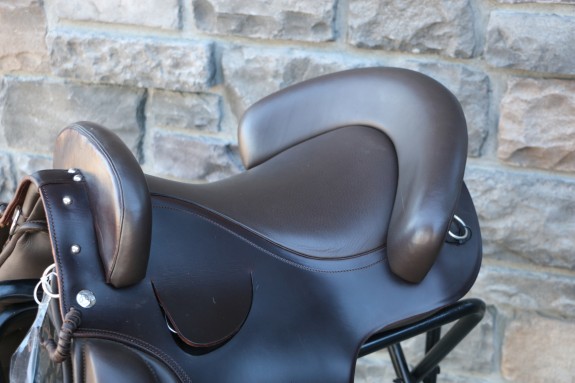 00134 Alta Escuela DEMO
SRP:

IN STOCK: SOLD
The Alta Escuela saddle is incredibly comfortable seat has latex padding, dressage flap with anatomical shaped exterior knee blocks on a dressage style flap. The tree shape gives the horses maximum freedom of should movement. Elegance in dressage. The new design of the traditional Spanish saddle with external dressage knee pads.
Made of specially selected European boxcalf leather, more resistant, flexible, very elastic and durable. Available in smooth leather or suede combinations.
New semi-deep and comfortable tree, this saddle allows the maximum contact between rider and -horse, offering a more correct position for the rider.
Stirrup leathers can be fitted either over or under the flap. Available in smooth leather or suede, special selected European boxcalf.
The Alta Escuela model is ideal for classical dressage, from basic training up to high school, as well as being a very secure and comfortable trail saddle
New ergonomic design of the skirt (long dressage) that has a knee roll gives the rider a more comfortable position. Mixed panels of wool with water-sweat repellent treatment and latex rubber stop that prevents the rocking on the back of the horse, getting a greater seat and providing freedom to the horse.
Separate "V" billets offer absolute fixation to the horse getting the maximum contact of the horse and rider. The first billet, to prevent the saddle from advancing forward and thus facilitate the movements of the backs. The "V" -shaped rear billets act to prevent the swing in the rear.
Safety stainless steel stirrup bars
Tree made of special materials, with the most advanced technology. Guarantee for 10 years.
Measurements:
Weight: 9.800kg
Panel length: 56cm.
Length of the skirt from the stirrup bar: 39cm
Kneepad: 30cm high x 6cm wide x 4.5cm high
Borren front: 23cm x 5cm x 4cm (pommel)
Borren rear: 43cm x7cm x4cm (cantle)
Seat size: 40cm *Measure like a western saddle
Tree sizes 32cm
Flap length: 35cm (from stirrup bar to bottom of flap)
10 years guarantee
Comes with a Zaldi Saddle Cover
This saddle is available for Trial, information can be found under "HOW TO" at the top of the page.

**All discount and sale items are final sale, no returns or exchanges available.**
IN STOCK MODEL 40 seat tree 32 channel 9 Marron smooth leather
How To Order
Related Products
Elegance in Country Dressage