Ronda package SOLD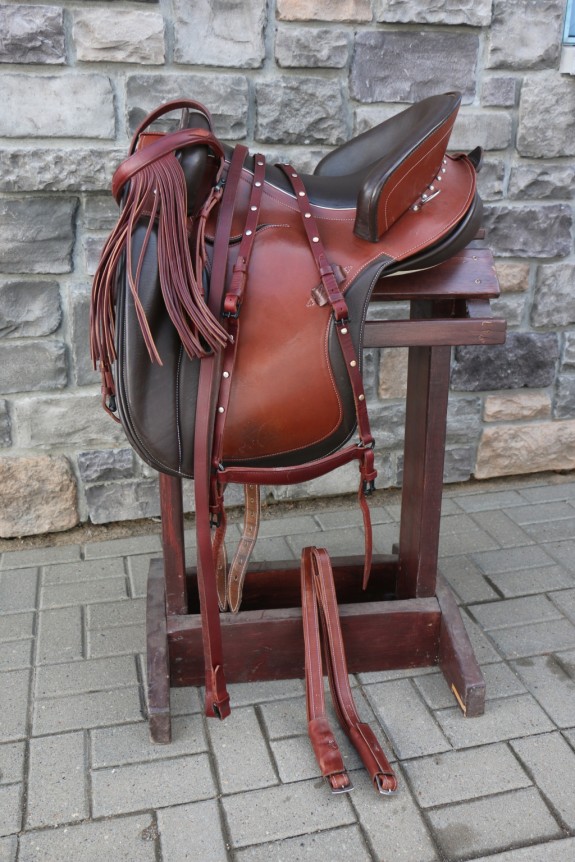 00128 Ronda
Package price: SOLD

In Stock: Brown and tobacco Bicolor
THE PACKAGE CONSISTS OF:
Size: 30 seat
Tree35cmXW
Channel: 9cm
Bridle- fringed Vaquero/tobbaco/horse size
Breastcollar: custom
Stirrup leathers: Matching by Zaldi
Zalea: custom by Zaldi Sheepskin comfort riding cover.
Traditional Spanish saddle designed from the Alta Esuela with 2 tier bocks from the San Jorge dressage saddle.Ideal for Working Equitation, or just riding the trails., for professionals as well as amateurs. Very comfortable and secure.
It is made from European selected leather of box-calf and vegetal crupon. Latex rubber seat. 2 tier knee blocks, Dressage flap. Knee pad. Spanish Country tree made of special material, using the latest modern technology. Safety stainless steel stirrup bars. Long girth straps. The panel made of wool and linen. Linen is recommended when looking for a closer fit and confirmation to the horse's back then leather.
This saddle is available for Trial, information can be found under HOW TO at the top of the page.

APPROXIMATE MEASUREMENTS OF THIS SADDLE IN SIZE 30cm
Weight: 9.400kgs
Measurement of the seat: 30cm (space of the seat between the two "borrenes")
Length of the panel in the underside: 52cm
Length of the flap (down from the stirrup bar): 39cm
Kneepad: 30cm high x 6cm wide x 5cm projection
Front "borren": 34cm long x 4cm wide x 4cm high
Back "borren": 48cm long x 4cm wide x 9cm high
How To Order
Related Products
Elegance in Country Dressage