S0108 NEW Working Equitation Instock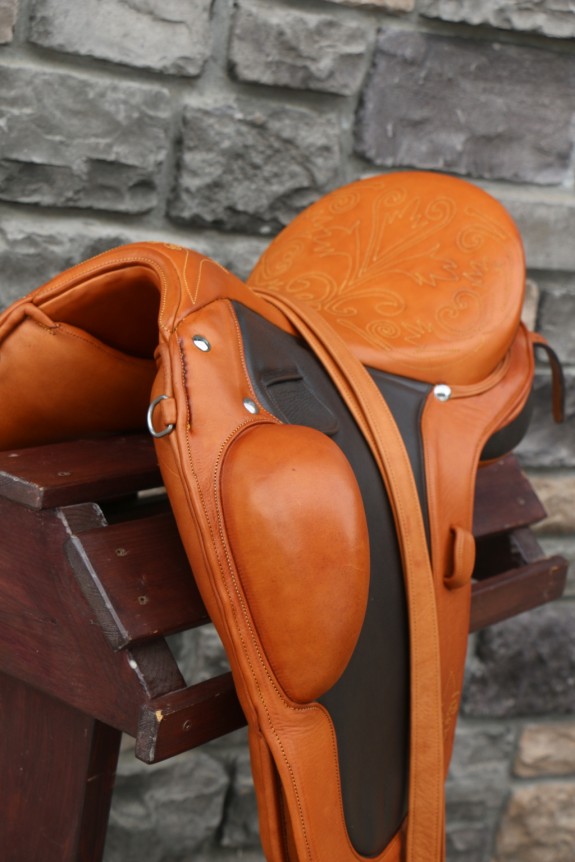 S0108 Working Equitation Adjustable
SRP $3498 SPECIAL $3150.
In Stock: 18" London/brown
COMES WITH STIRRUP LEATHERS AND WORKING ZALEA
NEW, adjustable carbon fiber and flexible and lightweight tree. Beautifully handcrafted in a dressage design specific for the art of Working Equitation, appropriate to meet the requirements of high competition. Highly functional, allowing for greater mobility and a classical deep seat. Eurpean thigh blocks for added security, rider comfort and ease of lower leg moveemnt.
Fancy stitched seat and soft leather inserted flap with flap protector.. Exterior high knee roll in the newest European design to give the rider security along with freedom of the lower leg.
Seat smooth leather, elegantly stitched motif. The most buttery soft leather available.
Saddle comes with matching leathers and a riding cover custom made for this model.
Seat sizes: 18"
Long V-billets
Color: bicolor (brown/london)
Silver hardware
Tree: carbon fiber adjustable tree
Panels: Microfiber filler and wool
VMCS handcrafts its products in Portugal, guaranteeing the best quality, at the best price. Products are tested by professional riders and World Champions in their sports.
All the saddles are made by measure to perfectly adapt to each horse and rider.
5 year warranty based on normal use.
How to Order