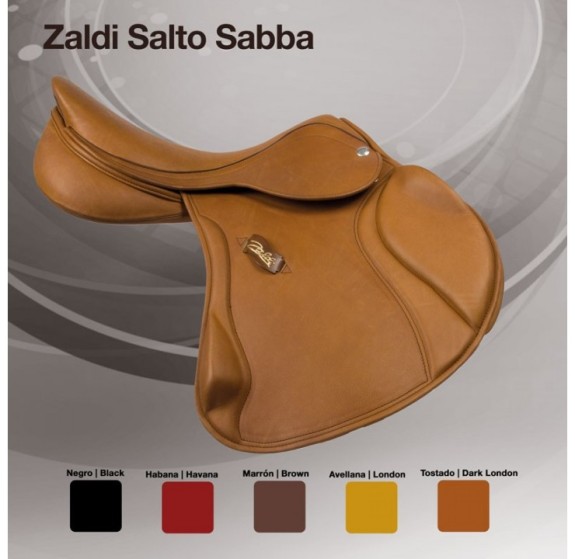 00152 Sabba
00152 Salto Sabba
SRP: $3120
In stock: Call to order
DESCRIPTION
Spectacular MONOFLAP saddle, good qualities to make it different among other jumping saddles. Excellent leather, flexible tree, ergonomic design to have freedom of movement, closer contact, confidence…
A close contact jumping saddle from Zaldi's new T+T range, similar to the Zaldi Santaana jumping saddle. 10 year guaranteed special shock-absorbing semi-deep flexible polycarbonate tree. It is made in selected European box-calf leather. This saddle allows close contact and has a single ergonomic jumping flap with outside front and rear pads and the knee pad is designed so the rider can ride in two positions. Designed for professional riders. Panels have a mixed filling of waterproof anti-sweat wool and rubber latex. This jumping saddle includes the new "V" system with long girth straps. Stainless steel safety stirrup bars inclined at 15 degrees to allow correct riding position. Light weight.
The width of the tree can be modified by means of the Zaldi machine for opening and closing reinforcement Ref.0100502. In less than a minute you can adjust the saddle to the back of your horse.
SABBA based on the Zaldi-Star that has had a great acceptance by riders for years. This saddle is ideal for jumping, both for professionals and amateurs. In addition to a good value for money.
Material: selected European leather. Latex rubber seat, Semi-deep seat
Tree: Advance jump, with a single flap in a MONOflap design.
Exterior block.. Tree made of special materials, with the most advanced technology. Guarantee 10 years..
Long "V" billets.
The latex rubber panels offers a support for the back of the horse.
Seat sizes: 16 "16.5" 17 "17.5" 18 "
Channel widths: 7, 9, 10
Tree: 28 to 34 cm .
APPROXIMATE MEASUREMENTS OF THIS SADDLE IN SIZE:
16.5" Length of the flap from the stirrup bar 34 cm- Length of the panel in the underside: 44cm
17" Length of the flap from stirrups bar: 35cm Length of the panel in the underside: 45cm
17.5" Length of the flap from stirrups bar: 36cm Length of the panel in the underside: 46cm
18" Length of the flap from stirrups bar: 37cm Length of the panel in the underside: 47cm
Kneepad: 13cm high x 4cm wide x 2cm
External thigh block: 13cm x4cm x3cm
Weight: 5.00kgs to 8.4kg