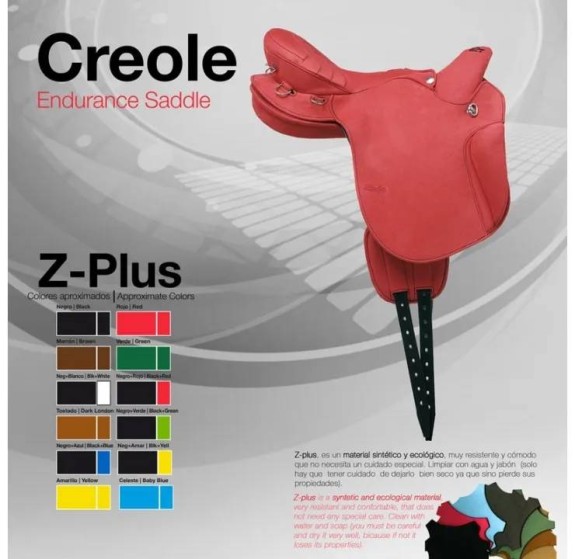 00803 Creole
00803 Creole Endurance
SRP: $2360
In stock: call to order
TECHNICAL INFORMATION
Made from special Z-PLUS synthetic leather, very resistant and easy to clean.
Outside kneepad.
Endurance flap.
Panel made of latex rubber.
Double latex rubber seat.
Tree made of special materials, applying leading technology. Western type saddle tree, not flexible but very light.
Stirrup bars built in the saddletree.
Long girth straps.

SIZES: Rider: STANDARD (equivalent approx. to a size of 17.5")
Horse: STANDARD
APPROXIMATE MEASUREMENTS OF THIS SADDLE
Rider: 44.5cm total length (from the pommel to the cantle).
Space of the seat: 38cm
Length of the flap (down from the stirrup bar): 34cm
Length of the panel in the underside: 52cm
Saddle support area: 47cm
Kneepad: 20cm x 6cm x 4cm
Weight: 5.400kgs