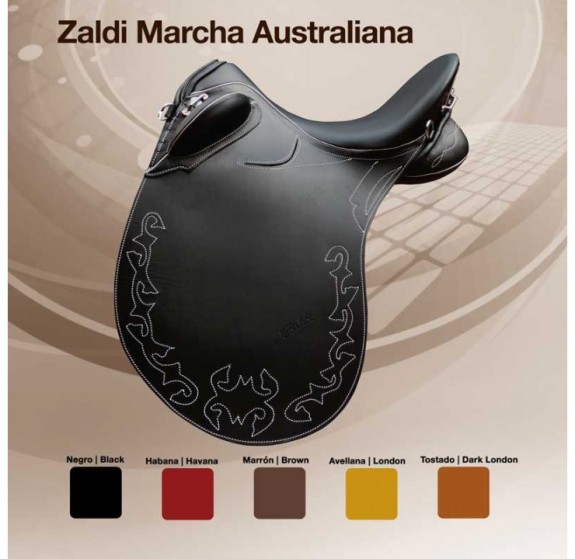 00109 Austrailiana
00109 Australiana
SRP: $3580
In stock: call to order
DESCRIPTION
Australian Traditioanl saddle. Safe and comfortable with the best value and quality-price. This saddle allows total freedom of movement, close horse-rider contact, comfort, safety and confidence.
Australian style extractor high thigh block, latex rubber seat for additional comfrot.,
At present, besides the classical colors, it is possible to make multiple combinations in leather, threads, piping and edge strips…
TECHNICAL INFORMATION
Material: it is made of European selected leather of box-calf and vegetal croupon.
Seat: semi deep
Billets: long
Stirrup bars: english style, stainless steel
Seat sizes: 18"
Tree: 28 to 34 cm.
Measurements :
Weight: 7.500kg
18 Length of fender from stirrup bar 48cm
Length of panelsl49cm, support area on panels 44cm.
Kneepad 17cm x 6cm x 4cm
Made in Spain by Zaldi