DIDIER GRAND PRIX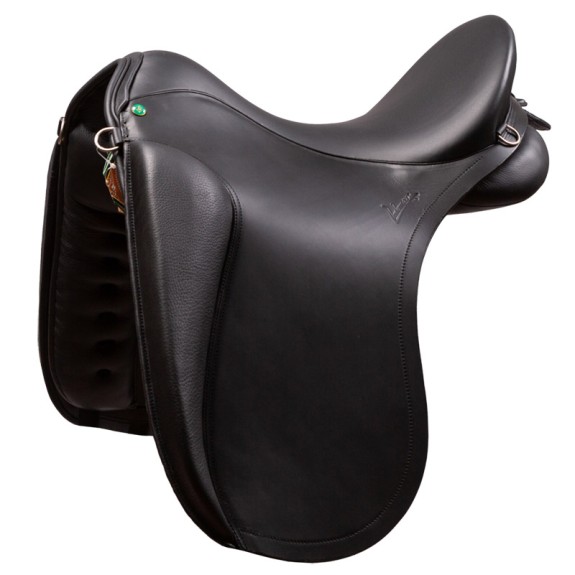 752 Didier Grand Prix dressage
Base price:$2950 Mono flap
$3100 Double flap
In Stock: Call to Order
The Didier Grand Prix si a stunning modern design with a very deep cup-like deep dressage seat. THe Diddie Grand Prix has a large ergonomic block, the deep seat and large block assist the rider in maintaining an optimal classical position. Three-point billets, V-billet system give the saddle greater stability and contact.
The gullet is available in 27-37 cm, making the saddle fit extra large horses that many other saddles do not fit., The gullet size can also be changed in the future if required.
Price will vary depending on additional options added.
only differs in the shape of the flap. Dressage saddle manufactured with a flexible tree, anatomically shaped blocks. Leathers can be over or under the flap.
Filigree can be added to the flap for an elegant personalization. Optional opening in the flap for the stirrup leathers to go over or under the flap.
All Ludomar English saddles have a semi-flexible frame that allows the width to be increased or reduced as necessary so that it can match the horse's back perfectly. Ludomar English saddles expand or contract up to 1cm on each side which makes them highly adaptable.
For example: a size W saddle (35cm) can be contracted to become a size N (33cm) or expanded to become a size XW (37cm)
Note: The frame of a Ludomar saddle must be adjusted by an approved professional saddle fitter.
Seat size: 17, 17.5, 18"
Bridge/Gullet: , 30, 31/N-2, 32/ N-1, 33/N, 34/ N+1, 35/W, 36/w+1, 37/XW
Billets: long dressage or V billet system
Panels: Latex or Synthetic wool
Flap: 2 flaps or mono flap
Leather options: Box Calf, split leather, suede or nubuck
**HOW TO MEASURE THE SEAT most Spanish/Portuguese/Baroque saddles are measured differently to the standard European method - .the is a straight line measured from inside the center/base of the pommel to inside the center/base of the cantle. A choice of three widths. Made in leather with quilted suede seat, exterior knee rolls, and latex filled panels. Metal stud work on front of pommel and rear of cantle.
Hand made in Spain by Ludomar, Warranty is 6 years with normal use. all Ludomar saddles come with a saddle cover.