Alta Escuela Instock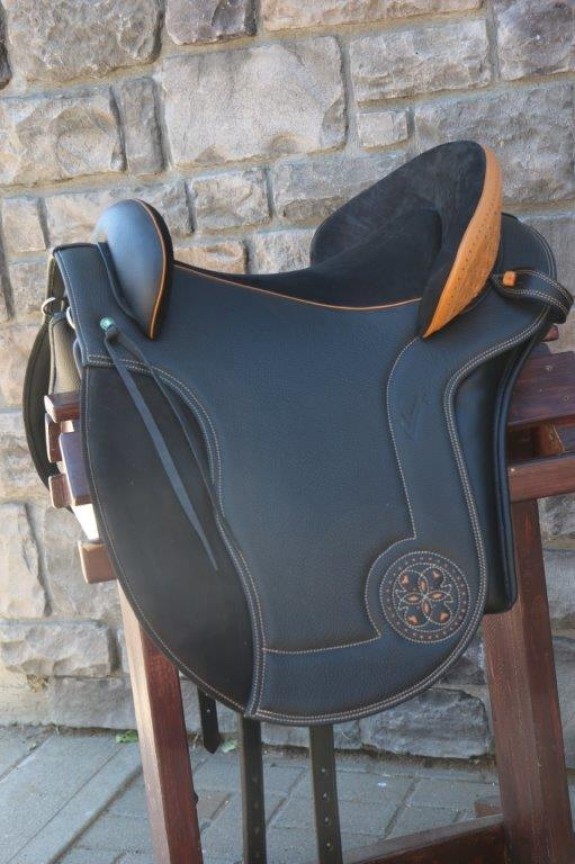 549 Alta Escuela
Base price: SOLD
In Stock: S/N 5033 as seen in the photos
Black box calf leathers with london accents, back of cantle vaquero filigree with black background. Nubuck seat for more grip. Seen panels for additional horse comfort.
In Stock: $2600 as shown with extras Seat sizes: 35cm (equivalent to 16" western or 18" English)
Bridge/Gullet:, , 35/ N+1
Billets: V billet system
Panels: Synthetic wool Seen Panels
Panel Length: 52cm
Flap: 2 flaps
Leather options: Box Calf, nubuck
Upcharges: Seen panels, vaquero filigree on back of cantle
The Alta Esceula is well known because it is the saddle of the Spanish Riding School in Jerez.
A saddle for classic dressage and high school. winning the hearts of recreational and dressage riders. due to the subtle galleries, the very good thigh freedom and the feeling of sitting very close to the horse.
The medium-deep seat puts the rider in the optimal dressage seat without being constricting. The seat is extra softly padded so that hours of riding are not a problem.
The saddle is made with a flexible or rigid tree, the flexible option has a smaller front pommel that allows the rider greater mobility. ,
Handcrafted with the comfort pillows in view for added comfort to the horse, the aim of the panels in view is insuring that the rider's weight is better distributed on the horse's back. These are particularly back-friendly, even for horses with a curved back or a very short contact surface.
The saddle: double flap.
English stirrup bars and no cut-out in the flap for under flap leathers, giving the rider additional comfort.
**HOW TO MEASURE THE SEAT most Spanish/Portuguese/Baroque saddles are measured differently to the standard European method - .the is a straight line measured from inside the center/base of the pommel to inside the center/base of the cantle. A choice of three widths. Made in leather with quilted suede seat, exterior knee rolls, and latex-filled panels. Metal stud work on the front of the pommel and rear of the cantle.
Hand-made in Spain by Ludomar, Warranty is 6 years with normal use. all Ludomar saddles come with a saddle cover.