742 LUD dressage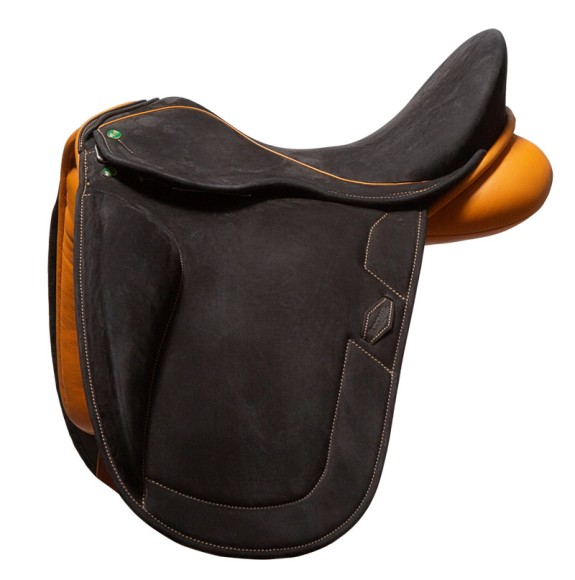 742 LUD dressage
Base price:$2750 Mono flap
$2800 Double flap
In Stock: Call to Order
Saddle made with a flexible tree.
A deep seat, rounded shorter flap, exterior knee blocks, cut back pommel. Smooth sleek compact flap design, ideal for smaller horses and riders.
A dressage saddle from Ludomar made for you and your horse.
This super soft, ergonomic deep seat dressage saddle ensures the rider a nice, snug feeling in the saddle without retraining the riders movement. The standard knee blocks are medium big, but the size of the knee blocks can be changed according to the riders needs.
The ergonomic shaped knee blocks and the rounded saddle flap leaves plenty of space for the riders legs. Very easy to sit saddle, but with a great steady feeling and grip.
Ludomar's flexible tree insures a very close contact and ease of communication with horse. Balance and weight aids are transferred to the horse with ease.
The flexible tree of Ludomar "FlexBalance" ensures close contact with your horse and communication that you will be amazed at. Your movements are amplified by removing the barrier of the old rigid arch.
You have the choice between mono or bi-district, colors, types of leathers, decorations ... You will be spoilt for choice.
Also available in suede or combination of suede and smooth leather.
Filigree can be added to the flap for an elegant personalization. Optional opening in the flap for the stirrup leathers to go over or under the flap.
All Ludomar English saddles have a semi-flexible frame that allows the width to be increased or reduced as necessary so that it can match the horse's back perfectly. Ludomar English saddles expand or contract up to 1cm on each side which makes them highly adaptable.
For example: a size W saddle (35cm) can be contracted to become a size N (33cm) or expanded to become a size XW (37cm)
Note: The frame of a Ludomar saddle must be adjusted by an approved professional saddle fitter.
Seat size: 17, 17.5, 18"
Bridge/Gullet: , 30, 31/N-2, 32/ N-1, 33/N, 34/ N+1, 35/W, 36/w+1, 37/XW
Billets: long dressage or V billet system
Panels: Latex or Synthetic wool
Flap: 2 flaps or mono flap
Leather options: Box Calf, split leather, suede or nubuck
A product with a very interesting quality-price ratio made to last and give you unparalleled comfort on horseback.
**HOW TO MEASURE THE SEAT most Spanish/Portuguese/Baroque saddles are measured differently to the standard European method - .the is a straight line measured from inside the center/base of the pommel to inside the center/base of the cantle. A choice of three widths. Made in leather with quilted suede seat, exterior knee rolls, and latex filled panels. Metal stud work on front of pommel and rear of cantle.
Hand made in Spain by Ludomar, Warranty is 6 years with normal use. all Ludomar saddles come with a saddle cover.
Related Products