0716 LEZIRIA Special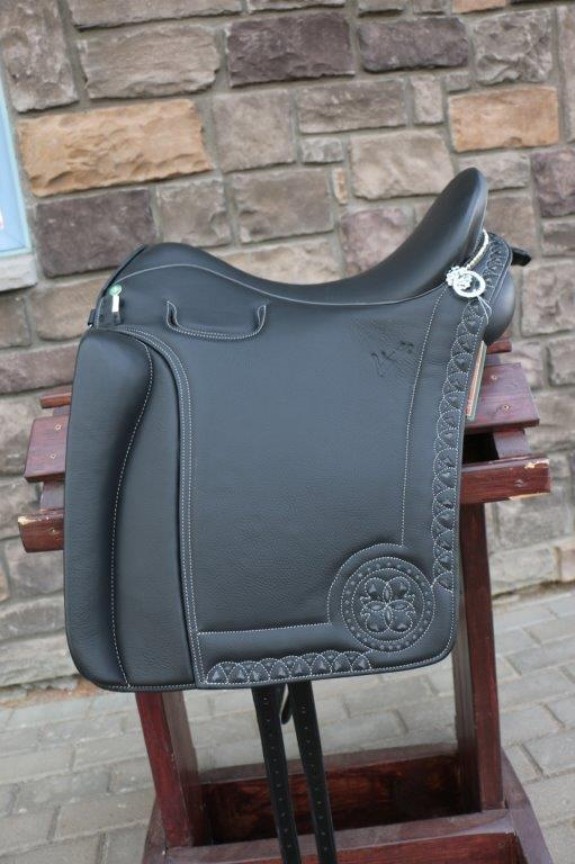 716 Leziria
Base price:$2800 Special $2600
In Stock: as seen in photo
The Leziria Portuguese styling saddle has a very deep seat, very long flap and knee blocks designed for rider security.
This Lezrria has a flexible tree with a double flap option. Filigree on the back of the cantle, the edge of the flap including the additional circle motif in the corner of the flap. All stitched in grey with grey leather background for an elegant yet subtle design.

Seat sizes: 18"
Bridge/Gullet:, 33/N,
Billets: V billet system
Panels: Synthetic wool
Flap: 2 flaps
Leather: Box Calf,
**HOW TO MEASURE THE SEAT most Spanish/Portuguese/Baroque saddles are measure the same as from traditional English from the button angled to the center back of the cantle. A choice of three widths. Made in leather with quilted suede seat, exterior knee rolls, and latex filled panels.
Hand made in Spain by Ludomar, Warranty is 6 years with normal use. all Ludomar saddles come with a saddle cover.