FF2213 Flex Fit Equtiation Trainer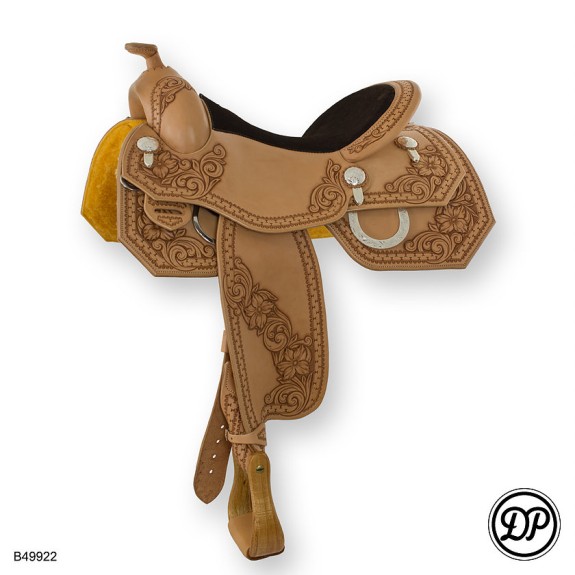 2213 DP Flex Fit DP Equtitaion Trainer is the Opus Western Dressage
Base Price $3976US excluding duty and shipping (Due to Fluctuation in Canadian currency)
IN STOCK: Call to place your order
NEW DP Opus
The new DP Equitation Trainer offers the all new equitation seat with a specially developed seat built for a deep and straight dressage seat position. The all new equitation fenders, which are set back on the saddle, support this idea by immediately placing the riders legs directly underneath them. Both give the rider a very secure seat in the saddle. Another new feature is our equal balance rigging - it is attached to the front of the saddle and also underneath the seat which gives the saddle more stability and an even pressure distribution. The generous skirt cut outs offers a lot of contact since there is only the fender between leg and horse. That way the rider can feel the horses movement better in order to communicate precisely and closely. This model is ideal for lots of different Western riding styles, but it's specialty is Western pleasure and Western dressage.
Tree: Pro-Flex Baum
Gullet: FF S-XL
Seat size: 15", 15.5", 16"
Saddle leather: natural, chestnut, havanna
Seat leather: nappa or nubuck or split-leather (colors: sand, cognac, brown, black)
Finish: Tan Kote
Front Rigging: Equal balance rigging
Back Rigging: Engraved D-ring
Hardware: 6x stainless steel conchos with silver tips
Tooling: Border/Flower-tooling (Opus PM2212)
Fender length: S, M, L (see measurements on information page)
Horn: Leather horn
Stirrups: wooden
Weight: approximately 28.5 lbs.
Skirt length: approximately 26.3" / 16"
Specials: equitation seat and fenders, equal balance rigging
How To Order