6315 Diamond Plus Bareback Pad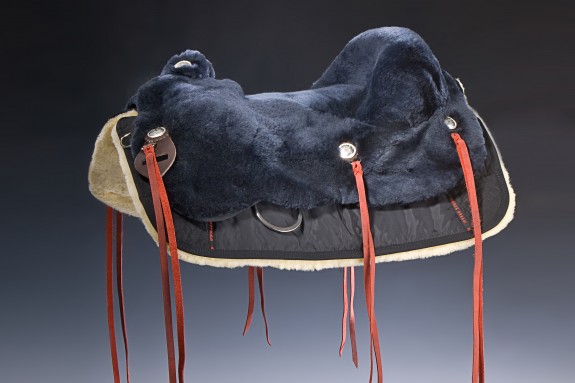 6315 Diamond Plus Special Bareback Pad
MSRP: $1150 Sizes: WB, PO
In Stock: Special order item
Available colors:
262 Natural/Black/Natural
462 Antracite/Black/Natural
772 Brown/Brown/Natural
6362 Western style bareback pad . Fenders can be added for an additional charge $498.
Which is the correct seat size?
The size of the bareback pad should be selected primarily by the riders size. Ladies up to clothing size 8/10 (European 40/42) will best fit in PO size, but can also take the WB size, if they have large-sized horses, which could make the PO size look tiny on their horses. But this is a purely aesthetic matter. Ladies 10+ size will find WB size most comfortable. Size WB will also fit smaller horses and ponies. Men should choose size WB size if their sizes are 40/42 or above.
The pressure is mainly located where you sit and is caused by the bones of your pelvis. Just like riding without a saddle, except that the CHRIST bareback pad protect your horses back via lambskin cushion underneath the saddle, the composite upholstery (padding inside) and the seat's lambskin and together distribute the pressure evenly alongside the horses back.
Since CHRIST bareback pad do not have a fixed saddle tree, they are ideally suited for every horses' back. Yes, every single one of them. This is particularly helpful if you're fitting a sway backed horse, or extremely short backed horses, or are dealing with symmetry issues. CHRIST bareback pad are a great alternative and often the only way to ride these horses again.
Bareback pad don't have to be fitted, because only soft and very flexible materials are used and nothing hinders or restricts the movements of the horse, therefore, CHRIST bareback pad suit all horses.
Return Policy:
All Christ items are final sales and are non-returnable, due to the fact that they will fit your horse and do not require a trial period.
Care: Washing Instructions
Thanks to our exclusive tanning process, all of our CHRIST sheepskin products can be washed in a standard washing machine. Remove any foam accessories and close all Velcro strips. Products with any metal parts should be washed in a cloth bag. Wash with the wool wash or other delicates program, set at 30°C (86°F).
Use only our CHRIST special washing agent that has been created especially for our products. C7 is an environmentally friendly washing concentrate that is very economical and goes a long way. The addition of a softener helps to keep the leather supple. Standard washing powders or wool detergents for textiles and wool are not suitable for washing sheepskin products as they extract important fats and tanning agents from the leather, making the sheepskin hard and brittle. Please also be sure to remove any old washing powder traces from your washing machine before starting.
When the wash cycle has finished you can spin-dry your product and then put it into a dryer, set at max. 40°C (104° F).
The movement and warmth in the dryer is very advantageous, keeping your product soft and supple. If you don't have a dryer you should dry your sheepskin product in the fresh air, but only in a shady place. Do not dry your product in the sun or on the heating! While your sheepskin is drying, keep pulling it into its correct form – when the leather fibres are damp, they are far more elastic than when they are dry.
Related Products
Christ Premium Sheepskin Bareback pads with exchangeable gullet

Christ Iberica Sheepskin Bareback pads

Christ Basic Sheepskin Bareback pads