1212SKLDE El Campo Decor SKL Shorty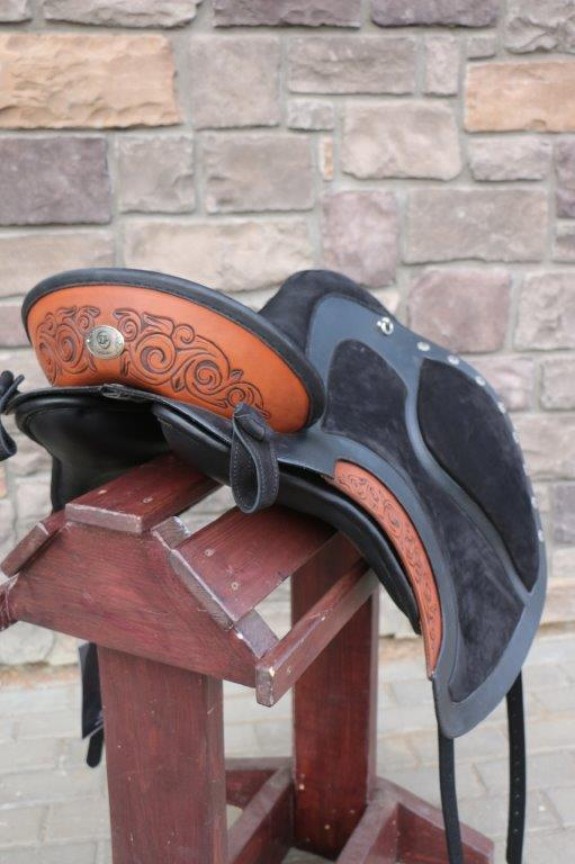 1212SKLDE El Campo Decor SKL Shorty
Base price: $ 4623US (Due to the fluctuation in the dollar, duty and shipping excluded)
IN STOCK: as shown S2 Shorty Black with chestnut
SOLD
An English-type saddle, the "El Campo" line was designed for Allround use, such as Dressage, Working Equitation, Classical Riding, Eventing, and Trail Riding. The Shorty is designed for the shorter backed horses measuring 2.5 to 3" shorter in length. The shoulder relief panels allow for close contact to the horse and the contact area makes this saddle perfect for long trail rides. It's near-vertical flaps make it an ideal saddle for Dressage Schooling. The Velcro knee rolls allow an individual adaptation to the rider's leg. This saddle is a reliable partner for dressage and smaller jumps. With the continuously adjustable gullet width and the anatomically shaped wool flocked panels, the saddle can be adjusted to the horses back anytime. As the saddle is kept short, it is also suitable for horses with a short back.
This model is an El Campo Decor SKL in a Shorty,
The Decor models have the tooled back edge of the flap and the back of the cantle. This model the tooled leather is chestnut with antiquing to bring out the pattern.
The SKL is the insert in the flap. here it is black nappa to match the seat and block covered area. The remainder of the saddle is black. The parachute conchos line the front edge of the flap. Medium wool flocked, 8cm channel, optional d-rings and stirrup pull up straps in nappa..
Standard Specifications: :
Tree: Ultra-Flex-tree – Leather tree available
Gullet: completely adjustable gullet width
Seat size: S1, S2, S3
Saddle leather: Nappa, Nubuck
(colors: natural, chestnut, havanna, brown, black)
Seat leather: nappa or nubuck
(colors: sand, cognac, brown, black)
Hardware: brass, stainless steel
Weight: approximately 17.5 lbs.
Saddle length:
S1 approximately 17.7"
S2 approximately 18.5"
S3 approximately 19.3"
Flap Length: S1/S2 (short) approximately 20.5", 52cm
S2/S3 (long) approximately 21.2", 54cm
Specials: soft knee area, velcro panels,
How To Order