1089 Quantum Sport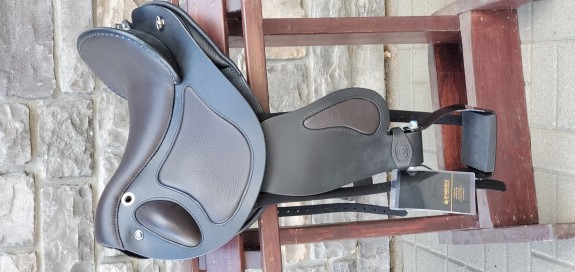 1089 Quantum Sport
Base Price: $ 3652US excluding duty and shipping (Due to Fluctuation in Canadian currency)


Tree: Ultra-Flex-tree
Gullet: completely adjustable gullet width
Seat size: S1, S2, S3
Saddle leather: Natural, Chestnut, HB2, Havanna, African, Black
Seat leather:
Nappa or Nubuck - colors: sand, cognac, brown, black
Aspen - colors: tobacco, rattan, blackberry, black
Special colors available (upcharge applies)
Hardware: brass, stainless steel
Length of Fenders: approximately 22.5", 27", 31"
Stirrups: endurance stirrups
Weight: approximately 19 lbs.
Saddle length: approximately 19.5 inches
Length of skirt: approximately 13 inches
Our Quantum Sport is like the smart car of saddles! It's one of our smallest saddles and one of our most popular. It's a light weight saddle with a deep seat and narrow twist. Lots of hardware to utilize, no horn, and wool-flocked panels with a larger surface for optimal weight distribution. You have many options when it comes to looks with our Quantum Sport. From classic black and brown to rainbow stingray, you can really make this saddle stand out! Last but not least, the Quantum Sport features our Ultra-Flex Tree providing maximum stability. The padded seat provides a luxurious and comfortable ride for many hours for the rider. Suitable for Trail, Endurance, gaited horses, and Hobby riding.
SEAT SIZE
Our saddles are available in 4 different seat sizes (measured on the bare tree prior to being built)
​S1 ≈ 16.5" (compare to 15" Western or 16.5" English)
S2 ≈ 17.5" (compare to 16" Western or 17.5" English)
S3 ≈ 18" (compare to 17" Western or 18.5" English)
S4 ≈ 19" (compare to 18" Western or 19.5" English)
(S4 is a special order only, upcharge applies, and is not available on all models. Exclusions are the following models: 1212 El Campo, 1211 El Campo Shorty, 1216 Quantum Western Short & Light, 1214 Quantum Short & Light and all saddles with Leather trees)
​Please note, that the finished seat size depends on the model and can variate slightly between different models. The seat size also depends on the type of gallery (front and back) you are choosing. When in doubt, contact one of our dealers to get the opportunity to sit in one of our saddles first before ordering.
DP Fender Length
Shortest
Longest
S
70CM/27.5"
88CM /34.6"
M
77CM/30.3"
93CM/36.5"
L
84CM/33"
101CM/39.7"
**Measured from the middle of the seat to the tread of the stirrup.
How To Order