1023 Jerez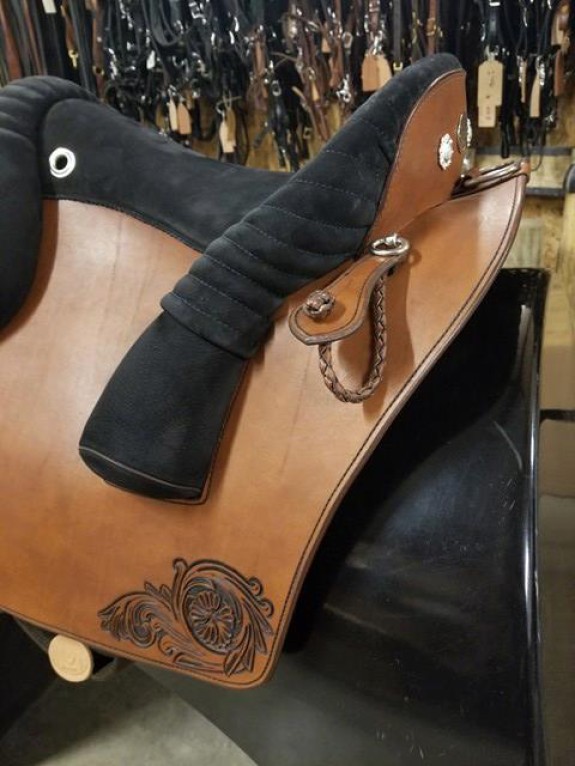 1023 Jerez
Base price: Plain $ 4253US
tooling is an upcharge
Price for Saddle excluding duty and shipping (Due to Fluctuation in Canadian currency)
IN STOCK: call to order
The Jerez, is designed from the Amarant and Buecknburger. The shorter rounded of the skirt makes it a perfect choice for the short backed horse. The shorter flat, wide, wool panels offer weight distribution for added comfort.
**Available in plain, or the 1024 Cadiz with the fender inlay and tooling or Cadiz Deluxe with the quilted pattern fender inlay.
Tree: Ultra-Flex-tree – Leather tree available - $330US Upcharge (NOT TREELESS)
Gullet: completely adjustable gullet width
Seat size: S1, S2, S3
Saddle leather: natural, chestnut, havanna, brown, black
Seat leather: nappa or nubuck (colors: sand, cognac, brown, black)
Hardware: brass, stainless steel
Weight: approximately 16.5 lbs.
Saddle length: approximately 20 inches
Length of flap: approximately 16.5 inches
Contact for a quote on Upcharges: Tooling, antique, braided stirrup pick-ups to mention a few.
How To Order
Related Products
Cadiz is available in 3 styles.