0050 Portuguese Olive Leaf Gators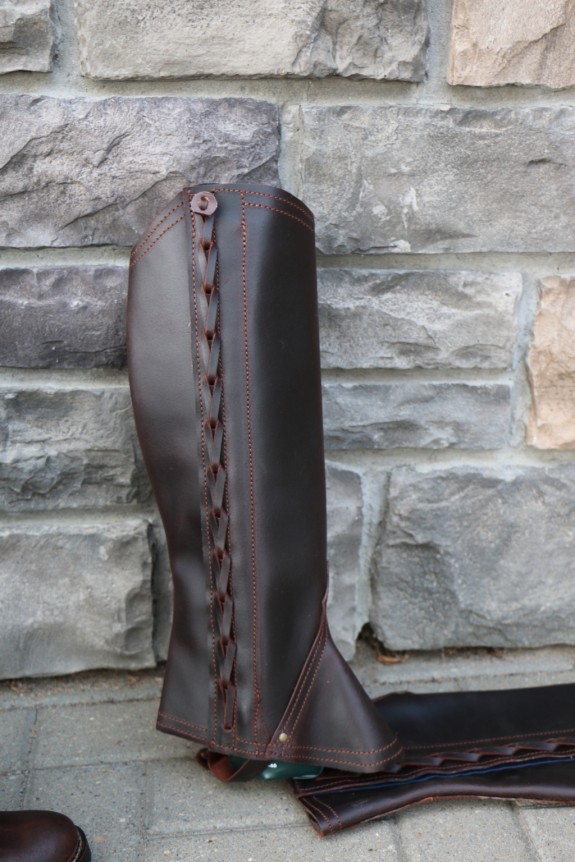 0050 Portuguese Olive leaf Gators
SRP: $349.00
In Stock: medium dark brown
Gators are manufactured out of a stiffer leather, much like the boots, to give a tall boot look when combined with paddock boots. Deisn with Portuguese Olive leaf woven in leather down the outside of the gators, zipper closer, heel guard, Spanish top. Elastic leather covered foot loop.
Available in sold color
Leather: black, brown, natural
Sizes: small, medium, large.
Medium calf at wides: 36cm (14")
Height: 46cm (18")
HALF CHAPS
STANDARD MEASURES
A- widest part of the Calf
B- from the crease behind the knee to the ankle.
| | | |
| --- | --- | --- |
| SIZE | HEIGHT (B) | CALF (A) |
| S | 30 cm | 32 cm |
| M | 32 cm | 34 cm |
| L | 38 cm | 36 cm |
| XL | 38 cm | 40 cm |
| XXL | 40 cm | 42 cm |