00176 Cabriola 2G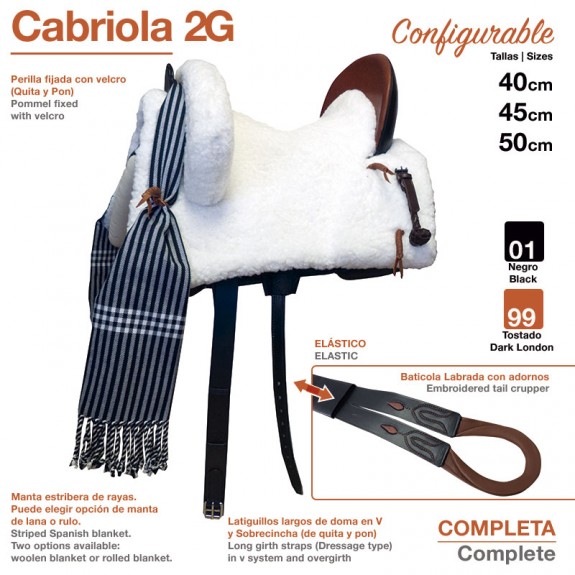 00176 Cabriola 2G
SRP: $3590
In Stock: Call to order
New saddle from the ZALDI 2G collection. Maximum support, lightweight, flexible and resistant.
The combination of its elements results in the best combination of safety, lightness and comfort in vaquero saddle of its category.
The saddle is an element of union between the horse and the rider. Its shape and comfort are very important to obtain an adequate frame. In ZALDI we look for the use of the most modern materials to respond to the demands of our clients. Materials 250 times more resistant and lighter used in aviation.
The pommel is fixed with velcro to give the rider the ability to adjust for comfort. Long girth straps (dressage style) in a V-system and overgirth.
Comes complete with 70 cm dressage girth. with stainless steel buckles. Embroidered elastic crupper and fiber light weight stirrups.
A choice of a striped woolen Spanish blanket (as shown)or a Rolled blanket.
Seat sizes: 40cm, 45cm or 50cm
Colors: Black, Tobacco.
MATERIALS:
* European croupon and boxcalf leather specially selected.
* Latex rubber seat.
* Panels latex rubber.
* Lightweight vaquero tree made of carbon fiber, with the most advanced technology. 10 year warranty
* Safety stainless steel stirrup bars.
* Long "V" hoses.
* Stirrup jeans fiber (can also be ordered from iron).
MEASUREMENTS:
Lengths from shell seat to knob:
* 40cm: Riders less than 1.60 meters high and up to 65 Kg.
* 45cm: Riders from 1.60 meters to 1.75 meters high and up to 80 Kg.
* 50cm: Riders over 1.75 meters high and more than 80 Kg.
* Suffice below: 55 cm., 60 cm. or 65 cm.
* Panel support area on the back of the horse: 50 cm., 55 cm., 60 cm.
* Shell: 37 cm. x 21 cm
* Weight: 7.600 Kg.
* Weight of the equipment: 2.400 Kg. (girth, fiber stirrup, girth and crupper).
IMPORTANT!!!!
ADJUSTMENT/ BREAK IN TIME OF THE 2G SADDLE
MINUTE 0.
When placing the chair on the horse it seems that it does not adjust anything at all ... It takes a time of adjustment Calm down!
MINUTES 1 TO 15. We
cinch, although it is wide and it seems not to adjust yet. Do not despair!
We climb the horse ...
MINUTES 15 TO 60.
The bastes begin to be distributed on the back where they must really support. We even see that we can already lower a couple of stitching points.
FROM 5 TO 10 HOURS OF MOUNT.
As we assemble the chair is adapted, going all to its place, to distribute our weight on the back of the horse. We can now adjust the girth more....
MORE THAN 15 HOURS OF MOUNT.
We observe an ideal fit, both with the chair and with it, where and how it rests on the back of the horse. They will play the bastes only in the right place to fulfill their function. It will allow a tight cinching.
REMEMBER THAT THERE IS A NECESSARY ADJUSTMENT TIME. TRUST ZALDI.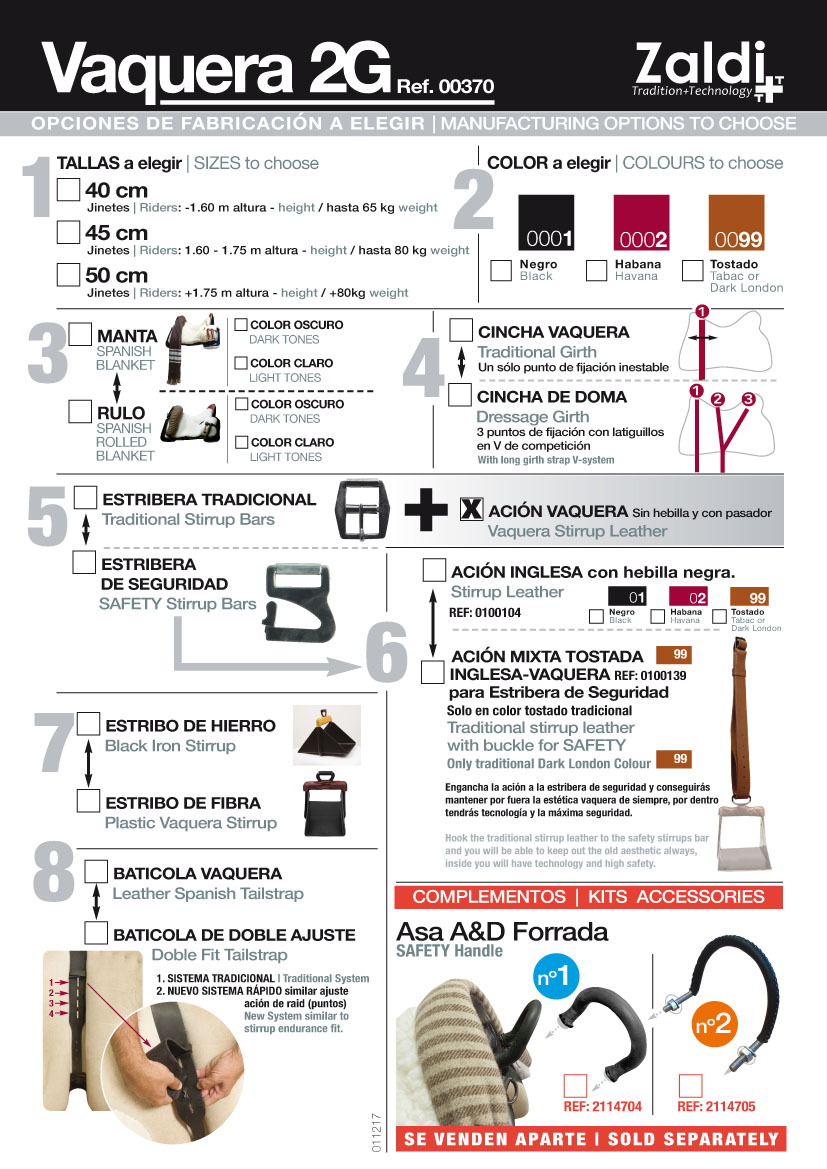 How To Order
Related Products
New design using the lastest technology while still keeping with tradition.

Closest contact of any Vaquera saddle