3250 Faro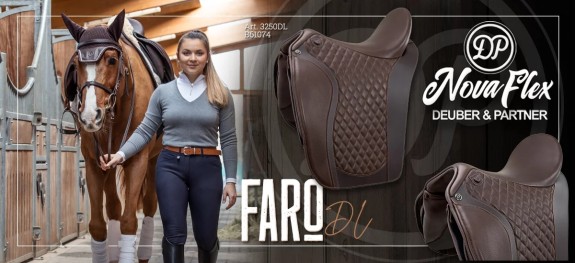 2350DL Faro
MSRP Base price: $4115US excluding tax and shipping DUE TO THE FLUCTUATION OF THE CANADIAN DOLLAR
Price : Call to order
Tree: Ultra-Flex tree
Gullet: Interchangeable
Seat size: 17", 17.5", 18", 18.5"
Saddle leather: Cognac, Africano, Oak, Black
Seat leather: Cognac, Africano, Oak, Black
Hardware: Stainless steel
Stitching Colors: White, Black, Gray, Blue, Brown, Cognac, Beige
Piping Colors: White, Black, Gray, Blue, Brown, Cognac, Beige
Panels: Soft Touch Panels
Individual Features: Velcro knee blocks (adjustable to fit), quilted Soft Knee Area, V-Billets
Individual all-rounder: The Faro DL saddle model was developed to meet the broadest possible range of requirements: for dressage lessons, in working equitation as well as for trail riding use. In order to be individually equipped for all these requirements, the Faro DL was equipped with a variable Velcro knee block. The Velcro block is attached under the saddle flap. Thanks to the Velcro underside, the knee rolls can be placed exactly where they are needed. The rider himself can easily place the knee rolls to a position of their liking, so multiple riders are no longer a problem - the knee block always gives as much hold as is needed. The Faro DL has wide saddle panels that are connected to the saddle flap on both sides (bound cushions). This creates a wide contact surface, which enables relaxed and comfortable riding for horse and rider thanks to optimal pressure distribution. The generous soft knee area is covered with soft upholstery leather and has elegant quilting as standard.
How To Order
Related Products
Prada available in mono or double flap

Recommended for the Alternate breeds in the show ring.