1067 Bueckeburger Schooling Saddle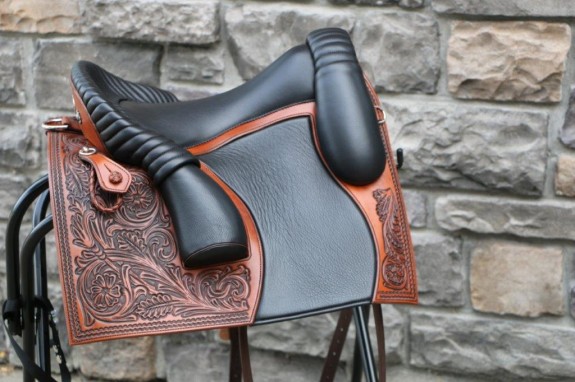 1067 Bueckeburger Schooling Saddle
MSRP Base Price: $4114US Prices are in US Funds due to the fluctuation of the Canadian dollar, plus shipping and duty.
Optional: Full Flower Tooling as shown: $5260US
IN STOCK: Call to order
Description:
This beautiful saddle is a reproduction of the original saddle that can be found in the "Marstallmuseum" of the Princely School of Riding Art in Bueckeburg, Germany, with a modern twist. Optically, this saddle will take you back to times of it's historical forefathers, yet it's functional and highly innovative construction will allow a perfectly balanced riding experience, a very deep seat that allows you to feel safe and cradled in and makes sure you are always sitting in the center of balance, optimal weight distribution to protect your horses back even on longer rides and allows you to give minimalistic riding cues. Perfect for a rider seeking for classical baroque training, who wants to be able to give his horse upmost comfort and who searches for balance and lightness in his training. Fully adjustable tree width via our patented Allen Wrench system, from narrow to extra wide by the twist of an Allen wrench, Ultra-Flex tree, standard Velcro panels thickness is 2 cm, various thicknesses available upon request. This particular saddle is available in seat size 2 (17.5") and is available to order in other sizes as well.
Saddle Tree: Ultra-Flex-Tree with fully adjustable arch
Saddle Leather: Havanna, Black, Natural, Chestnut Smooth Leather Seat Leather: Black, Brown, Cognac or Sand Nappa or Nubuck
Hardware: Brass or Stainless steel
Tooling: Full flower tooling or border tooling options available
Weight: ca. 9 kg
Saddle Length: ca. 54 cm
Saddle Flap Length: ca. 44 cm
Specialties: Velcro Panels, available in 1 cm, 2 cm, 3 cm or 4 cm thickness or Sheepskin covered. Standard panels are 2 cm, Nappa leather.
How To Order